This City Has a Revolutionary Approach to Dealing With Drugs — And It's Working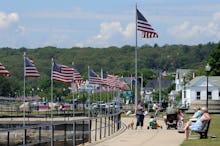 The town of Gloucester, Massachusetts, has a crisis on its hands. 
According to Boston.com, four people have died of drug overdoses in the small town this year, in a state that has seen an unprecedented surge in opioid-related deaths in the past couple of years.
On Saturday, the town convened a forum to discuss the dangerous uptick in opiate abuse and what could be done about it. After the meeting, Boston.com reports that the Gloucester Police Department made an unexpected announcement: It was going to help the town's drug addicts instead of waging war on them.
"Any addict who walks into the police station with the remainder of their drug equipment (needles, etc.) or drugs and asks for help will not be charged," Gloucester Police Chief Leonard Campanello wrote in a Facebook post that went viral. "Instead, we will walk them through the system toward detox and recovery. We will assign them an 'angel' who will be their guide through the process. Not in hours or days, but on the spot." 
Campanello also announced that naloxone, a rescue drug for counteracting opioid overdose, would be made available in local pharmacies without a prescription and that the police department would shoulder the cost of the drug for people without insurance.
The police chief plans to travel to Washington, D.C., to meet with the state's U.S. senators and representatives and discuss Gloucester's intention of making "revolutionary changes" in the way they treat addiction.
Gloucester's police department is set to work with Lahey Health Behavioral Services, which will help frequent emergency room visitors deal with the underlying causes of their addictions with hands-on treatment, "from food to transportation, detox to housing," according to Boston.com.
"I have arrested or charged many addicts and dealers. I've never arrested a tobacco addict, nor have I ever seen one turned down for help when they develop lung cancer, whether or not they have insurance," writes Campanello. "The reasons for the difference in care between a tobacco addict and an opiate addict is stigma and money."
An emerging trend: The notion that hard drug addiction should be treated as a disease rather than a moral failing is gaining traction in across the country.
Earlier this year, Kentucky passed legislation to deal with its heroin epidemic, making penalties for dealers stricter, but relaxing laws for people suffering from addiction. Mic reported on the law in March:
The law allows local health departments to create needle exchanges, which means that heroin users can swap used needles and syringes for clean ones for free, minimizing the risk of transmitting infectious diseases. Users who overdose won't be charged with a crime, but will be recommended to treatment services. The law also expands access to naloxone, a rescue drug for counteracting heroin overdose, by taking steps to allow pharmacists to provide the drug to addicts, their family members and friends, without a prescription. A "Good Samaritan" clause promises  amnesty to people who call emergency responders about an overdose.   
The Kentucky law was inspired in part by the success of one Ohio town's decision to open up a clean needle exchange which public health officials have credited with decreasing disease transmission and facilitating the guidance of addicts to treatment services.
Seattle has also seen promising results for its innovative program that gives police officers the option to divert someone suspected of a low-level drug-related crime to harm reduction-oriented management instead of the typical route of prosecution. A study from the University of Washington found that people who were directed to the welfare-focused program were up to 58% less likely to be arrested for new crimes since their first arrest than non-diverted suspects.
These are all hopeful developments. A society that understands that addiction is best understood as a disease instead of a crime is a healthier one.