Miley Cyrus and Ariana Grande Just Did an Amazing Cover of 'Don't Dream It's Over'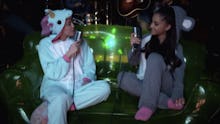 Miley Cyrus and Ariana Grande just donned full-body unicorn and mouse suits (respectively) to cover Crowded House's "Don't Dream It's Over." And it's amazing.
The singers collaborated for one of Cyrus' signature Backyard Sessions as part of her Happy Hippie Foundation. It's the latest performance in the series that kicked off with an awesome collaboration with Joan Jett. But this cover of the Crowded House song managed to outdo the Aussie band at their own game.
As if the killer cover weren't enough, Cyrus and Grande are pretty endearing in the video. They share some giggle-worthy, PG-risqué banter.
But in the end, this cover is all about the singing. It's just the latest bit of evidence that Cyrus and Grande are far better singers than they're given credit for being. They may not look like powerhouse performers, but they've got the pipes and rightfully earned their place in the modern pop scene.
Is it too much to hope we'll get another collaboration in the future? We won't dream it's over just yet.