In One Quote, a Kentucky Sheriff Completely Misses the Point of #BlackLivesMatter Protests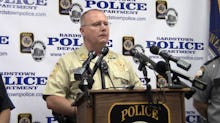 "We are glad that he is white."
This is how Nelson County, Kentucky, sheriff Ed Mattingly describes a recent shooting of a 25-year-old man by a local police officer during a Monday press conference, uploaded to YouTube by Nelson County Gazette.
Standing with local Police Chief Rick McCubbin, Mattingly makes the comment after being asked by a reporter if he feared "backlash" from the local community. After a brief, knowing grin, the sheriff dismisses the concerns, adding that, "we shouldn't have to be worried about that."   
"We are glad that he is white, and we shouldn't have to be worried about that," Mattingly says to the press. "We do not want any backlash or violence in this community because people have been misinformed."
Mattingly seems to assume the #BlackLivesMatter protests in response to the deaths of people like Michael Brown, Eric Garner and Freddie Gray are more of a undesirable nuisance than an indication of a major problem in the country. The sheriff also uses the question as an opportunity to lambaste the media's recent coverage of protests surrounding the excessive use of force by law enforcement. 
"The media has not done a very good job of informing the public, and the public is not educated on how the system actually works," he adds. "We don't want those type of troubles in our community."
The victim of the shooting, John Kennedy Fenwick, was shot Sunday morning in an altercation that occurred after police caught up to him driving a stolen pickup truck. Fenwick was later taken to a local hospital and listed in serious condition, Raw Story reports.    
While the full details of the shooting remain unclear, Sheriff Mattingly's response shows law enforcement officials in Nelson County have taken the wrong lesson from recent protests in Baltimore and around the country, a practice that might be best described as "community shaming." If his perception is indicative of the larger world of (mostly white) American police officers, the country may be in serious trouble. 
It's always a tragedy when police have to use deadly force. Rather than giving an amused chuckle, the sheriff of Nelson Country should be focusing on how to prevent future such incidents, regardless of race, from happening again.
h/t Raw Story