10 Stunning Images That Shatter Stereotypes About LGBTQ People of Color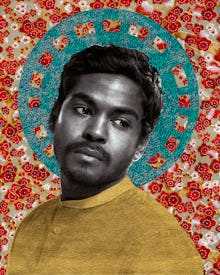 No matter how many art history courses he took in college or the number of art institutions he visited, artist Gabriel Garcia Roman never saw art depicting queer people of color. Rather than feel defeated or decry those spaces as universally exclusionary, however, Garcia Roman decided to create the change he wanted to see. And that's exactly what he's doing in his photographic series, "Queer Icons."
The subjects of Garcia Roman's series are queer and trans people of color (QTPoC) "who are working toward a higher visibility" through their work and their activism, the artist told Mic in an email. As his project progressed, Garcia Roman became connected with and began to photograph QTPoC artists, poets and activists who are "doing impactful things." 
This is why some images in the series include text as well. "I wanted to give them a canvas to speak about their identity," Garcia Roman told Mic. "I wanted to amplify their voice."
The series not only offers much-needed representation of QTPoC, but uniquely presents them in a historically religious style, with gold accents and halos around their heads. 
"I'd like to think of them as a hybrid between saints and warriors," Garcia Roman explained of this artistic choice. "Saints are usually depicted as martyrs, noble and selfless individuals working for the betterment of the world, but also I wanted to portray them as fearless warriors. They are looking right at you and challenging you."
His subjects are all making waves in a variety of areas, he said, not simply LGBT rights. A common misconception about the LGBT community, Garcia Roman observed, is that all of those who identify within that community are unified in thought. For example, he explained to Mic, the broader public may falsely perceive marriage equality as an issue the entire community uniformly champions. 
"In fact many in the QTPoC community are simply fighting to survive as well as gain visibility" Garcia Roman said. He hopes that including these activists' own words on canvas allows "their voices to chant from the page." 
"This series has opened me up to such a large community of people who are fearlessly making things happen for themselves and the community," Garcia Roman told Mic. Ultimately he hopes his work — and better representation of LGBTQ individuals in the art world, and in media — will allow others to become equally well-acquainted with these incredible individuals as well.