Katy Perry and Sam Smith Both Called Out This Brooklyn Songwriter as the Next Big Thing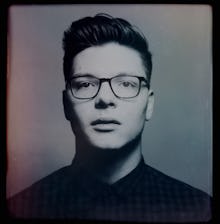 Some young songwriters yearn for the moment they'll get signed. Others dream about playing a big show. 
And then there's Kevin Garrett, whose big break happened in a way beyond what most artists could ever dream of. His lush, haunting instrumentals and soulful croon so captivated Katy Perry and Sam Smith that both mega-stars took to Twitter to proclaim their love for his work. His path changed in 140 characters.
Perry has the single biggest following in the Twitterverse, and Garrett's music is constantly compared to Smith's. 
Kevin Garrett may be crafting pop's next aural fascination. And his EP Mellow Drama is only the beginning.
Garrett's buzz. "I'm not trying to break your heart yet, but I want you to know that I can." These were the words Brooklyn-based, Roc Nation-affiliated singer-songwriter chose to share with Fader when they premiered his latest EP, Mellow Drama, last month. One listen through the five sultry tracks, and it's clear he's onto something.
Yet no one has been more surprised by his EP's stunning reception more than Garrett himself. Though he's signed to Roc Nation as a songwriter, his rise to fame has been wholly natural.
"Whether it's my dad on Twitter or Katy Perry on Twitter, it's all been organic," Garrett told Mic. "I don't have PR. I'm doing this, to joke, in the Beyoncé visual album sort of way. I just threw stuff out there, and it seems to be sticking with people."
Perry's and Smith's co-signs caught Garrett completely off guard. He got Perry's tweet just as he was about to take the stage at South By Southwest's ASCAP showcase, and it sent his mind racing. He told Mic he's still trying to figure out how his music made its way to her team.
"It's cool to know that people at that level are still music fans, and listen to music and look for new music," he said. It's a hopeful sign, especially, since if he continues his steady rise, he may soon be on that level.
From Pittsburgh to Brooklyn to the Roc. Garrett grew up in Pittsburgh, picked up the violin at age four and guitar sometime after. "Anything that made noise when I was growing up, I would try to play it," Garrett told Mic.
Violin got him into New York University. Moving to the city got him starting to think seriously about making it as a songwriter. "It instilled a drive in me," he said. "New York does that to everybody."
The first group he put together played under his own name. But the songwriting process had a bit more of a band aesthetic, so they came up with a name: Noble Hunter. They cut a record that debuted as the "#1 folk record on Bandcamp." But when he and his bandmates came up on the end of school, they began to drift apart.
In the meantime, Garrett had started writing songs far more personal than ever before, but he didn't feel ready to let people in, he said. Garrett pocketed the songs, and when the time was right he recorded them under his own name. His demos found their way to the Roc Nation office stereos through a stroke of brilliant luck around May of last year. They signed him as a songwriter on the publishing side, but they didn't realize just how big his own music would become.
In November 2014, Garrett's first single, "Coloring," debuted on Pigeons and Planes.
"It all generally refers to that point in a relationship when you have to make a decision and you need to sack up and do it even though you know it's over," he told the site. "[M]y willingness to infuse some jokes into this description is a microcosm of most of what I've been working on. It's probably just me being scared of getting too real with people, because at the end of the day this song is still kind of sad and I still don't like giving in."
A new era. At this point, though, he's not as interested in sharing the inspirations behind his songs.
"Once the song is out and once the song is ready for people to listen to, it's not for me anymore. It's for everybody else," he says. "If I can sing a song and help somebody else figure something out, or reach out to somebody else about their own personal issues, that's kind of what the point is for me."
Currently, Garrett is working on a full length and writing for other Roc Nation-affiliated artists. Selling out venues like Rockwood Music Hall is a flattering, but fame isn't the end-all, be-all for Garrett. "One thing I try to live by is I try to set really high expectations, but at the same time everything is an achievement. Because if you set goals and then you reach them, where are you now?" he told Mic. "I just try to keep the ball rolling ... keep getting music out, and keep playing for everybody."