Now You Can Finally See If Your Match Is Actually in a Relationship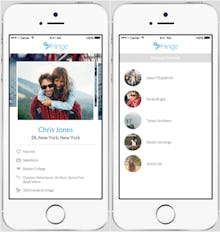 People on dating apps aren't always totally honest? We're stunned.
That was the general reaction to the controversial report last week that, based on one small survey, 42% of people on Tinder are actually in relationships. While Tinder strongly refuted that high stat, another app has decided to address such dishonesty head-on by putting relationship statuses on people's profiles.
Hinge announced on Wednesday that Hinge profiles will now show whether a user is "married," "engaged," or "in a relationship," based on the user's relationship status on Facebook. The opt-in feature will be part of the permissions process when registering for Hinge
"The move is in response to learning that 1.6% of our users are married or engaged and wanting to ensure we maintain a trustworthy environment for those who do want to meet someone more seriously," a Hinge representative told Mic. 
"Hinge is currently for finding relationships, and we want to keep it that way."
The move is a solid decision for Hinge, given all the negative attention Tinder received after the unflattering survey data hit the fan. 
Clearly, determined cheaters (or mere window-shoppers, aka "Tinder tourists") can find a workaround on Hinge: The relationship status relies on Facebook data alone, which plenty of people don't bother to use anyway. As BuzzFeed so perfectly put it, "What was once a relationship milestone is now a cheesy relic of the aughts." Not to mention there are plenty of other things we're more likely to lie about on our dating profiles, from our heights to our body shapes.
But hey, there are some extremely honest online daters who make no secret of their relationship statuses:
UPDATE - May 22, 2015, 7:44 am: Hinge has reached out to Mic with the reassuring (?) news that, since implementing the "relationship status" option, at least 450 men have signed off the app. 
Hinge's vice president of marketing said in a statement, "We see a natural attrition rate week to week, but this was nearly 40% higher than normal for men. Women, on the other hand seemed to appreciate the news, with 26% more than normal joining." Hmmm...
h/t the Daily Dot