11 Musicians Who Wish You'd Just Stop With the Cellphones Already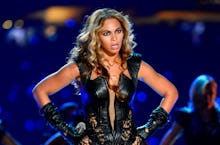 With live-streaming services like Periscope and Meerkat joining old standards like Instagram and Snapchat in the quest to make live music experiences fully documented, uploaded and ruined, it's easier than ever to have a bad concert experience. But some musicians aren't standing for the cellphone domination any longer.
It's a big problem. Not only is it unpleasant for all the people around the photographer, but science also shows that recording a show on your phone makes it harder to remember what actually happened. "When we rely on an external memory aid, [we] mentally count on the camera to remember for [us]," psychologist Linda Henkel told NPR. "As soon as you hit click on that camera, it's as if you've outsourced your memory." Some music festivals have made moves to introduce rules that'll make the viewing experience better for everyone. Coachella and Lollapalooza have already banned selfie sticks. And there's a new technology cropping up at venues, called Yondr, a case that locks your phone when you're in the "Yondr phone-free zone."
No one, however, does a better job of taking down the cell-phone users than the stars themselves. Here are 11 musicians who really wish you'd just stop with the cellphones already.
Prince 
The Purple One notoriously posts "Purple Rules" at all his shows. The signs read, "No PHOTOGRAPHY, No VIDEO recording, No Cell Phones. These rules will be strictly enforced and violators will be asked to access another experience." Sometimes his "cellphone gestapo," as people have taken to calling the guards who monitor phone use, get overly aggressive.
"I watched as they dragged away multiple people who held their phones up just a second too long trying to capture Prince's essence or whatever," Gothamist's Ben Yakas wrote. "People had their phones snatched from them in mid-air, and if they argued, they were escorted out of the building in a very non-funky manner."
Wilco
After attending a show by "mindfreak" Criss Angel where cellphones were confiscated before the show, Wilco frontman Jeff Tweedy was inspired to enforce the same rule at Wilco shows — "minus the frisking," Wall Street Journal reported.  
"My sense of indignation was really roused quite a few nights," he told the Journal. "Once there was an established set of rules, I could stop talking about it during the shows ... I honestly feel the crowd's engagement with the show. There's a more audible kind of reaction to different musical moments, a kind of intangible energy."
"I think [by using cellphones] you're surrendering your own memory to a very imperfect medium," he continued. "Our memories are imperfect to begin with but that's what's beautiful about it."
Black Crowes
The most spot-on mobile takedown came from Chris Robinson, frontman of the (recently broken up) rock outfit Black Crowes. He told the Wall Street Journal, "As a band we've been trying to string together these moments, the kind of moments I've had as a music fan that have blown my mind. That's not happening when you're texting or checking your fucking fantasy league stats. I personally think you should be too high to operate a machine at our concerts."
Beyoncé
The queen of the Beyhive doesn't post signs, but during one show in Atlanta, she did call out a fan in front of the entire audience. As Beyoncé sang "Irreplaceable," she put her mic down for audience members to sing along, but one man couldn't sing because his phone was in the way.
"See, you can't even sing because you're too busy taping!" she told him, according to USA Today. "I'm right in your face baby, you gotta seize this moment baby! Put that damn camera down!" You better believe that guy put his phone away.
Jack White
The former White Stripes frontman is one of the most outspoken musicians about... well, pretty much everything, but particularly cellphones. The guy doesn't even own one himself, which is probably why he refers to it as "a fucking texting thing."
In an interview with Rolling Stone, White said, "People can't clap anymore, because they've got a fucking texting thing in their fucking hand, and probably a drink, too! Some musicians don't care about this stuff, but I let the crowd tell me what to do. There's no set list ... If they can't give me that energy back? Maybe I'm wasting my time."
Bruno Mars
Even though Bruno Mars is music's "good time guy," he's still gotten pissed off at concertgoers who are too busy with their phones to even dance. According to New York Daily News, during a show at New Jersey's Prudential Center, Mars said to the crowd, "It is our duty to get you dancing. You can't do that when you're filming the show, can ya?" He apparently then screamed, "Put your damn phones down!"
She & Him
Doe-eyed Zooey Deschanel and M. Ward's band, She & Him, put up cheeky signs at their shows to remind fans that watching live is better than watching through a screen. According to Stereogum, the signs read, "At the request of Matt & Zooey, we ask that people not use their cell phones to take pictures and video, but instead enjoy the show they have put together in 3D."
Ward previously got into a bit of a tussle with NPR's Bob Boilen over the cell phone restriction during Ward's show at the 9:30 Club in Washington. In response to Ward's request, "Tonight, no photography or videos. Including cell phones," Boilen tweeted, "A ban on cell phone pictures and video @9:30Club for Lee Renaldo & M. Ward Seriously? Let's see how we all do with that."
Neko Case
Indie darling Neko Case came to Ward's defense by responding to Boilen on Twitter. She wrote, "Just put the phone away and watch the show. That IS why he is traveling THOUSANDS of miles to play." That, in turn, prompted Boilen to write this response. Case has also spoken about other shows she's gone to where cell phones were a distraction.
Of an Adam Ant show she attended, Case told FasterLouder, "There were people who were there for the right reasons and then there were people there who were there because that's where you go and all they were doing was filming it and taking pictures, which was really a drag. Because we were trying to see and people had their phones up so it was actually hard to see because it was like a sea of phones." When the interviewer asked her about using iPads to record a concert, she said, "I would punch somebody's iPad if I saw that."
Björk 
Icelandic exhibitionist Björk has a pretty strict cellphone ban at her shows, based on this video slide that Stereogum caught at Bonnaroo: "At the Artist's request please refrain from taking photographs or recording images. This is distracting to Björk and she would encourage you to please enjoy being part of the performance and not preoccupied with recording it." That's Björk the Artist — not Björk the artist — to you.
Yeah Yeah Yeahs
The Karen O.-fronted band put these shout-y signs up at a Webster Hall show in New York, according to Spin: "PLEASE DO NOT WATCH THE SHOW THROUGH A SCREEN ON YOUR SMART DEVICE/CAMERA. PUT THAT SHIT AWAY as a courtesy to the person behind you and to Nick, Karen and Brian. MUCH LOVE AND MANY THANKS! YEAH YEAH YEAHS"
But rather than ban phones outright, the YYYs implemented a genius rule that encourages fans to record for the first three songs then stow cellphones for the rest of the night. Spin wrote, "Many readers responded saying they wished venues would enforce this rule on a regular basis."
Savages
London-based post-punk band Savages post at their shows signs encouraging concertgoers to enjoy the moment. "Our goal is to discover better ways of living and experiencing music," the sign reads, according to Stereogum. "We believe that the use of phones to film and take pictures during a gig prevents all of us from totally immersing ourselves. Let's make this evening special. Silence your phones."
Lead singer Jehnny Beth took to Tumblr to address the signs: "The audience always feels your intention, for an hour and a half you are responsible for what happens in the room, they're not gonna do anything out of line with you. So I suppose it all depends on the performer. It's instinctive. We are mediators between the music and the people. We are guiding them towards immersion, they will go as far as we go."