Watch Rock Legend Eric Clapton's Touching Tribute to the Late King of Blues B.B. King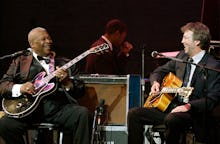 Rock legend and guitarist Eric Clapton took to social media on Friday morning after his dear friend, the blues legend B.B. King, died at the age of 89 in his Las Vegas home on Thursday evening. 
Clapton and King collaborated over the course of their long careers, producing the song "Riding With the King" off the album of the same name, which went twice-multiplatinum. Many contend King's influence can be heard in Clapton's hallmark bluesy sound, with Clapton being described as a "longtime fan."
Clapton has been known to use his platform and large fanbase to promote King, whom he believed didn't sustain the recognition the blues legend deserved in the twilight of his career. "If you're not familiar with his work, I would encourage you get an album called B.B. King Live at the Regal, which is where it all really started for me as a young player," Clapton says in his tribute. 
You can watch the entire video here:
King, born on a plantation, exemplified a rags-to-riches story and was an inspiration for the marginalized in America, particularly for black Americans. His music defined the sound of blues over generations. "B. B. King, whose world-weary voice and wailing guitar lifted him from the cotton fields of Mississippi to a global stage and the apex of American blues," writes the New York Times.
King's prodigious catalog of recordings and videos offers some solace, proving that his legacy will long outlive him.