Yes, You Can Now Buy a "My Parents Swiped Right" Baby Onesie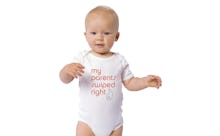 It was inevitable.
Pair an estimated 50 million users with 1 billion profile swipes per a day and what will you eventually get? Tinder babies — and a Tinder onesie.
The newly released clothing item, sold by the aptly named website Tinder Baby, hilariously reads, "My parents swiped right." It's a reference to the now iconic swipe-left, swipe-right selection process — but it's also a somewhat terrifying harbinger of a new era of families.
Ronny Sage, co-creator of Tinder Baby, believes that "Generation Tinder-baby" is already a thing, and we all better get on board.
"One of my close friends told us that their friend is having a baby with someone they met on Tinder. I was like, 'No f-ing way,'" Sage told DNAinfo Chicago. "From that moment, we imagined the onesie. ... I looked up the [domain name] and I couldn't believe the website was still available." 
Yes, this is our future:
Creepy and unserious as Tinder's reputation is, we shouldn't be so shocked. Founded in 2012, the so-called "hookup app" has grown into a behemoth dating platform for all sorts of relationships — and a growing rash of Tinder marriages suggests some users are swiping to "I do."
"We're one of the select few who didn't use Tinder to just get a NCMO (Non-Committal Make Out)," a Tinder bride wrote on her blog Right Swiped. Another couple, both divorcees in their 40s, had their Tinder-born wedding profiled in the New York Times' prestigious Vows section. As more daters start taking the app seriously as a way to meet long-term matches, babies — and Tinder-fied baby gear — are bound to happen.
The onesie, however ridiculous, does prove something serious: The last vestige of embarrassment or shame over online dating has faded away. A 2013 Pew Research Center survey found 59% of Americans say it's normal to meet online. Bibs, bottles and tees celebrating that fact only prove further the stigma is nearly extinct.
The $19.99 onesie may start off as just a gag gift for millennials, but something tells us that the "Tinder baby" is more than just a joke — it's our future.
h/t DNAinfo Chicago