Silicon Valley Fashion Week Was a Total Circus — Some Models Weren't Even Human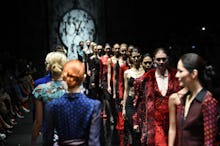 The first incarnation of Silicon Valley Fashion Week kicked off Tuesday night, and it featured a bizarre tech-wonderland-slash-Burning Man aesthetic only possible in a place like Silicon Valley. 
Rather than gowns and statement blazers, the shows featured wearable drum pants and bike helmets with built-in lights. And instead of the leggy, pin-thin beauties seen on most runways, SVFW employed invisible models — colorful, compact quadcopters flying outfits down the runway.
Yep. Those drones are so hot right now.
Some carried lightweight pants or quilted jackets. Others "wore" metallic tops. The clothes were attached to their robotic guides with hangers, but because they didn't have a body keeping them in place, they quivered and hovered all over the place. 
Betabrand, a crowdfunded clothing company responsible for the poop-emoji button-down shirt, was one company employing the drones. It linked up with Game of Drones to make it happen.
"Drones are lovely," Chris Lindland, Betabrand CEO and founder of Silicon Valley Fashion Week, told Mashable. "Drone-flown clothing flutters beautifully in the prop wash and floats down the runway like a ghost."
Game of Drones founder Marque Cornblatt said drones could become the next wave of fashion.
"Two years ago we were playing with our robots in something like a fight club," Cornblatt told Mashable. "Today, I see that there's so much potential for them: advertising in parks, marketing at baseball games and, of course, fashion. If you're walking up to an Abercrombie & Fitch where there are no longer any sexy models, maybe there will be drones out there instead. Slowly but surely, drones are going into the mainstream." 
Netting kept the audience safe from the possibility of rogue drones.
While Silicon Valley is often criticized for its fashion — the tech industry is arguably best known for Mark Zuckerberg's uniform of hoodies and jeans — SVFW showcased the zanier side of startup couture. The three-day event, which concluded Thursday night, also tried to stay away from the haughty, nose-in-the-air feel of more traditional fashion weeks.
"This is not a snooty fashion show," Lindland told the Verge. "This is really just saying, 'Let's give a fashion runway to the people who would perform at DEMO or TED.' We're going to try to conceptualize a conversation around technology and tech products but give them a runway because that's a different way to look at them."
As much as we love the idea of Anna Wintour sitting front row at New York Fashion Week watching drones whiz by her head, it's hard to imagine drone models catching on. Then again, stranger things have happened in the fashion world.
h/t Mashable