11 Reactions from Music's Biggest Stars Paying Tribute to Late Blues Legend B.B. King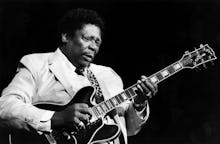 "There's going to be one killer blues session in heaven tonight," President Barack Obama said Friday in his tribute to B.B. King, who died Thursday night at the age of 89 in his Las Vegas home.
"The blues has lost its king, and America has lost a legend. B.B. King was born a sharecropper's son in Mississippi, came of age in Memphis, Tennessee, and became the ambassador who brought his all-American music to his country and the world," the president said. Obama is just one of many celebrities who are leveraging their reach on social media to pay tribute to the blues legend. 
King is hailed by musicians across the board as the man who defined the sound of blues, and his influence on numerous artists can be felt and heard. From blues to rock and pop to hip-hop, artists have been taking to social media Friday morning to express their condolences and share what the king meant to them.
Snoop Dogg's tweet links to this Instagram photo:
As for how he'll continue to live on in the people who listen to his music, Obama said it best: "He gets stuck in your head. He gets you moving, he gets you doing the things you probably shouldn't do – but will always be glad you did. B.B. may be gone, but that thrill will be with us forever."