This Photographer Is Pushing Back on Stereotypes About Tattoos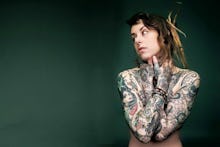 When British photographer Niall Patterson decided to get a tattoo, he was surprised by just how many people — in his own life and in general — still maintain negative attitudes about them. That's why he decided to push back on these common beliefs through his art.
Patterson set out to photograph individuals with tattoos: artists, models, shop assistants, ambulance drivers and others to celebrate their bodily enhancements. He hopes that doing so will "show the beauty of the art and the beauty of the people carrying these around on them like a human canvas," he told Mic.
While plenty of people still think "people with tattoos are bad in some way and should be avoided," Patterson told Mic that he's "met some fantastic people ranging from so many different backgrounds" throughout his project. Most of the photos are accompanied by short entries by the subjects, with stories about their ink or their perceptions of the artform. 
Patterson hopes to turn this stunning series into a book, and launched a Kickstarter this week to raise the funds to do so. 
Patterson said he ultimately wants to show the world that tattoos are an "extension of the mind and an art form, not something that should be frowned upon." Judging from these photos, it's clear he's well on his way to doing just that.