Everything You Ever Wanted to Know About Vibrators, But Were Too Afraid to Ask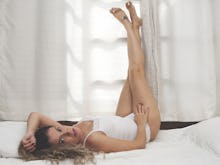 The vibrator has come a long way since its early days.
It once weighed 40 pounds, took two people to operate and looked like a torture device.
Not only are they far prettier and lighter now, they're also more accepted. Over 50% of American women are already using vibrators solo, according to a 2009 survey that found 84% are using them for clitoral stimulation (unsurprisingly). And a Trojan-funded survey found that 72% of Americans were open to using a vibrator during sex. 
Despite all that, women seem to masturbate far less than men, and vibrators still carry a stigma, or at least squeamishness, that leave plenty of women with questions they're too sheepish to ask aloud. So in honor of Masturbation Month, Mic asked Claire Cavanah, co-founder of Babeland and co-author of Moregasm: Babeland's Guide to Mind-Blowing Sex, to answer a few of the questions on women's minds. 
"Are men threatened by vibrators?"
According to a 2011 study by Indiana University, 70% of men say they're not intimidated by vibrators, however, there are still men who, as Cavanah told Mic, might fear that they could possibly be replaced by a plastic toy. But there's nothing quite like the feeling of human contact — or the oxytocin, otherwise known as the "love hormone," that's prompted by it. Vibrators can step in for orgasms, but they can't replace intimacy.
"Are vibrators just for women?"
Short answer: No. A 2009 Indiana University study found that almost half of men have tried a vibrator at least once. Whether the man is gay or straight, using a male-specific vibrator or a gender neutral toy against the scrotum, shaft and or the head of the penis can up the satisfaction of a guy's sexual experience, either alone or with a partner.
"What's the different between a vibrator and a dildo?"
Simply put, dildos are insertable toys meant specifically for penetration. They can be strapped on and inserted by a partner, male or female (hello, Broad City ladies) or inserted during masturbation. Although some vibrate, their chief purpose is to penetrate, which some women find pleasurable (particularly those who enjoy that so-called G-spot). Vibrators, on the other hand, aren't limited to one body part. Speaking of which ...
"Are vibrators for vaginal use only?"
Nope: "There are vibrators designed for clitoral stimulation, anal stimulation and for vaginal and clitoral stimulation at the same time," Cavanah said. "We have vibrating nipple clamps, cock rings and masturbation sleeves for men with vibrators inside." And they feel good pretty much everywhere.
"Is it bad if you can only get off with a vibrator?"
"Some women never come without one, and some women come a lot harder, faster or more often with their favorite toy," Cavanah said. As many as 75% of women can't orgasm without clitoral stimulation, not to mention other forms of touch, so a vibrator can help during P-in-V sex. There's absolutely no shame — or weirdness — about not being able to get off without vibrator.
"What if a penis can never do what a vibrator does?"
Well, it can't. A pulsator, which not only vibrates but mimics the in-and-out movement of a penis during sex, is somewhat more similar in comparison. But ultimately, no vibrator can do what a penis does because a penis is attached to a man, and as mentioned above, human contact comes with all its own pleasurable benefits that no toy can recreate.
"Are there any side effects from using a vibrator?"
Although Indiana's study found that some women experienced numbness (16%), irritation (10%) and even swelling (8%) with vibrator use, 71.5% of women had no negative side effects. A positive side effect of vibrator use? Women who used vibrators were "significantly more likely" to have gone to the gynecologist in the past year and were more likely to give themselves genital self-exams.
"Will using a vibrator too often prevent me from coming during sex?"
While vibrators may make for stronger orgasms and the ability to achieve them easier and faster, they will not prevent a woman from climaxing during sex. As Debby Herbenick, author of Sex Made Easy and Great in Bed, told Gizmodo, "Rest assured that there is nothing about vibrator use per se that will deny a person the ability to have orgasms any other way." 
"Should everyone try a vibrator?"
If they're curious, definitely. "You have nothing to lose and a lot to gain," says Cavanah. Plus there really is a vibrator out there for everyone. There's the Crescendo by MysteryVibe, which can changed into various shapes to fit every vagina out there, a vibrator that takes selfies and for long-distance partners, there's We-Vibe 4 Plus, which can be controlled via an app (!).
"How do I even go about buying a vibrator?"
Purchasing your first vibrator can be daunting, with more gadgets (with more fancy features) out there than ever. Cavanah suggests going to a reputable shop so you're greeted by a staff that will not only make you feel at ease but also point you in the right direction. Next decide on what stimulation you want. "Once you've determined that," says Cavanah, "go for the one that turns you on and sparks your imagination." 
That's where the fun starts.