The Boston Bomber Has Officially Been Sentenced to Death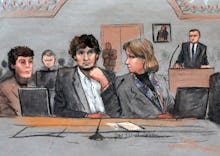 On Friday, after roughly two days of of deliberation, a jury decided Dzhokhar Tsarnaev, the Boston bomber previously found guilty on all 30 counts for his role in the 2013 attack, will receive the death penalty. 
The death penalty requires a unanimous decision from the jury, which found that on at least some of the counts, Tsarnaev deserved capital punishment.
When the verdict was ready, Tsarnaev reportedly appeared unaffected.
After the lawyers' sentencing arguments were completed, U.S. District Court Judge George O'Toole carefully instructed the jury to complete a 24-page questionnaire in determining whether Tsarnaev would live or die. Their answers, CNN reported, were to "be based on Mr. Tsarnaev's personal actions and intent and not on the actions or intent of anyone else." 
O'Toole also commended the jury for their service.
Attorney General Loretta Lynch also weighed in shortly after the decision was announced, saying it the "ultimate penalty is a fitting punishment for this horrific crime."
Though Friday's decision seems final, it may still take years to ultimate be put into place. There is still room for potential appeals, and the process for carrying out the death penalty can take years. 
Because of the sheer number of the counts facing Tsarnaev, the jury faced the difficult task of sifting through "12 aggravating factors prosecutors say support a death sentence and 21 mitigating factors his lawyers say support a decision to instead sentence him to life in prison," the Associated Press reports.
The jury began deliberating late Wednesday after the prosecutors finished making their case that the 21-year-old was without remorse and deserved the death penalty, and the defense finished arguing his life should be spared. They then spent about seven-and-a-half hours on Thursday and most of Friday before announcing their decision at 3:00 p.m. EST Friday. 
There were numerous questions swirling as to whether Tsarnaev would receive the death penalty and several came out against it, including Massachusetts Sen. Elizabeth Warren and Bill and Denise Richard, the parents of 8-year-old Martin Richard who died in the bombing, who wrote a powerful letter against the death penalty in this case. 
Though the death penalty hasn't been invoked in a Massachusetts case since 1947 and has been against state law since 1982, because Tsarnaev was being tried at the federal level, the question of capital punishment came back into consideration. 
As Mic previously reported, on April 15, 2013, Tsarnaev and his brother Tamerlan placed homemade "pressure cooker" bombs by the finish line of the Boston Marathon. The bombs detonated, killing 3 people and injuring approximately 264 others. In the following days, police went on a massive manhunt that ended with Tamerlan being shot and Dzhokhar found hiding in a boat. Though Tsarnaev eventually told police he and his brother had been motivated by online Islamic extremists, he maintained they were not part of any larger organization.