Fifth Harmony Are the Spice Girls of the 21st Century — And It's Time We Recognize Them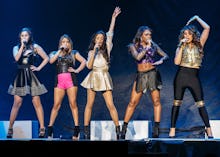 Fifth Harmony may only have gotten a few moments on the screen at the Billboard Music Awards on Sunday, but they were among the most charismatic stars of the show. They were charming as ever, talking over each other on the red carpet and speaking on-camera later that evening. In a night where questionable icon Meghan Trainor won big and Taylor Swift received mass adulation for taking her feud with Katy Perry public, they embodied what female pop stars can do with music to actually bring feminism to the public.
In that way, Fifth Harmony is beginning to closely resemble a Spice Girls for the 21st century. The record-shattering girl band ushered in an era of girl power in the late '90s with their catchy hooks and empowering lyrics. The music captured the imaginations of millions of young people around the world who wanted powerful female role models. Now on the back of their biggest hit ever, "Worth It," Fifth Harmony is on their way to reimagining that scenario for the 21st century. And it's time they got the recognition they deserve.
Spice Girls 2.0: Fifth Harmony first emerged in 2012 while performing on the TV show the X Factor — just like boy band legends One Direction. Fifth Harmony finished in third place on the competition, but they've gone on to be one of the show's most successful creations. Like the Spice Girls, the group has five members — Camila Cabello, Normani Kordei Hamilton, Lauren Jauregui, Allyson Brooke Hernandez and Dinah Jane Hansen. Also like the Spice Girls, Fifth Harmony's music is equal parts sassy pop and female empowerment anthems for the 21st century: "Bo$$, Michelle Obama / Purse all heavy gettin' Oprah dollars," they sing on "BO$$." "C-O-N-F-I-D-E-N-T, That's me, I'm confident / Don't want yo' compliments."
Real girl power: Fifth Harmony represents the kind of girl power that Taylor Swift's video of women with bazookas can't quite encapsulate — the upbeat kind that comes from earnest friendship and frank discussion of the troubles women face. In the opening of the music video for "Worth It," we see a ticker tape. The words "Fifth Harmony women in power" flash across it. Later, it reads "break through glass ceiling."
The whole video inverts gender roles in business. "Give it to me, I'm worth it," they sing on the chorus.
Their music is just one part of their girl power. They're using their public platform to make their stance especially clear. "The whole girl-power thing wasn't as heavily intertwined before — we're more aware of it now," Camila Cabello told Billboard. 
"We like that when girls look at us, they don't see perfect little blond-haired, blue-eyed Barbie dolls," Lauren Jauregui added in the same interview.
Again and again, they work to give young girls confidence in themselves. "Women are often made to feel like they have to be a certain type of girl, but you can be anything you want to be," Jauregui told Seventeen. Their career is seeking to prove that's the case.
They're part of a powerful history. Girl groups have always been an agent of liberation. They've been around since the late '50s, when Motown dominated the radio and female collectives like the Supremes, the Ronettes and the Shirelles first introduced the idea of the "girl group." That music sounded sweet, but even early on, the lyrics covered everything from abusive partners to pre-marital sex to single motherhood. 
"Girl groups," the Rock Hall blog wrote, "while sometimes seen as puppets manipulated by unseen and mostly male handlers, were an authentic manifestation of the worldview of teenage girls — a group just coming into its own in the early 1960s and increasingly recognized for its growing economic power as consumers and arbiters of style."
Girl groups changed in style, came and went, but the one thing that remained constant through the decades was the genre's importance in advocating for female empowerment. That's something Fifth Harmony knows extremely well.
We'd be lucky to call Fifth Harmony the first great girl group of the 2010's. Give them the shot — they're worth it.