In One Quote, the Snapchat CEO's Graduation Speech Shuts Down Millennial Haters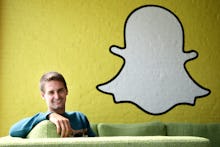 On Friday, Snapchat CEO Evan Spiegel gave a commencement address at the University of Southern California's Marshall School of Business where he defended his legacy at the helm of Snapchat and smacked down millennial haters far and wide.
In a 10-minute speech, the 24-year-old Spiegel reflected on his own college experience and his decision to leave Stanford without graduating.
"It only recently occurred to me how totally absurd this whole [graduation] charade was," he said, "We do all sorts of silly things to avoid appearing different."
Getting to the meat of his remarks, Spiegel addressed the controversy and criticism surrounding his decision not to sell his company to Facebook for a reported $3 billion:
"When we decided not to sell our business people called us a lot of things besides crazy – things like arrogant and entitled. The same words that I've heard used to describe our generation time and time again. The Millennial Generation. The 'Me' Generation. Well, it's true. We do have a sense of entitlement, a sense of ownership, because, after all, this is the world we were born into, and we are responsible for it." 
Spiegel's defense of his decision and of his generation could not have been more timely. In the media, millennials have found themselves under fire on just about every front. In March, Bloomberg declared them to be the most selfish generation, The New York Times reported they lacked "work ethic," while other outlets have called them arrogant, self-absorbed and narcissistic. Joel Stein penned a Time magazine front page cover story on the subject of miserable millennials in 2013. 
The fact is, though, a closer analysis of all of these claims don't hold up. Excessive student loan debt, the great recession and stagnant wages are all unique challenges that millennials face in the modern economy.
Whether it was leaving school or spurning Facebook, going against the grain and being different is one of the cornerstone's of Spiegel's success. As a generation, that is the model millennials should be following.
Read the full text of his speech here.