One of America's Favorite Liquors Could Be on the Verge of a Major Shortage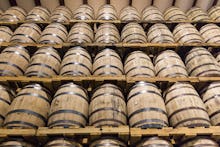 America's bourbon makers are running into a serious supply-side problem: They're running out of barrels.
The Wall Street Journal reports that major bourbon makers and craft distilleries are trying to increase production at the same time that an ongoing shortage of the white oak used in barrels has made it more difficult to obtain new barrels. Since bourbon barrels are used only once for an aging process that lasts at least two years, the 35% growth in the bourbon market means that manufacturers are running out of options. 
Bourbon makers produced a record 1.21 million barrels in 2013, but hardwood saw mill production has yet to recover to 2007 levels following the Great Recession and the collapse of the housing market. Leroy McGinnis, who has made barrels for 50 years, told the Wall Street Journal he had recently been offered $250 per cask by multiple distillers when the usual rate is $150.
"We're on the end of our barrels, and it's a real possibility" that it will force him to skip aging a batch of whiskey, Independent Distilling Co. founder, Michael Anderson, told the paper.
The Spirits Business reported that barrels are widely expected to be in short supply for at least two years, as the harsh 2014-2015 winter season had a detrimental impact on logging.
As Grubstreet adds, the Jack Daniels company recently won a major legislative battle to retain strict trade controls on what can be labeled Tennessee whiskey, including requirements that distillers filter spirits with charcoal and age them in unused oak barrels. Repealing that law would allow some distillers to use more creative ways to age their product; retaining it has aggravated the ongoing barrel shortage.
While established distilleries are having less trouble than others finding barrels, whiskey lovers are facing additional challenges as increased demand has led to shortages of some premium, long-aged brands like Old Charter.
"If you wanted to go to the store and buy bourbon, there's definitely no shortage of bourbon on the shelves," Kings County Distillery founder Colin Spoelman told Mic's Sophie Kleeman in March. "But for some of the more coveted, longer-aged bottles, they're definitely getting harder to find.
"Certainly the top-shelf [bourbons] are going really crazy, but even some of the more interesting bottom-shelf whiskies are getting hard to find, too."