Watch Mitt Romney and Evander Holyfield Duke It Out in the Strangest Boxing Match Ever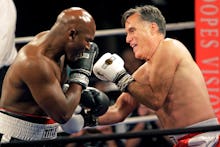 Here's one of the weirdest things you're likely to see today: former presidential candidate and Massachusetts Gov. Mitt Romney tussling in the ring with retired boxing legend Evander Holyfield.
In a Salt Lake City, Utah, charity match that CNN dubbed the "Quake on the Lake," 52-year-old Holyfield and 68-year-old Romney traded blows that the network said sometimes "appeared more like a tickle fight than a boxing match." At one point, Romney clocked Holyfield in the side of the head, and down he went:
Nothing out of the ordinary there.
Here's the fight from another, less flattering angle in which Romney lands some of what could charitably be called punches, courtesy of the Independent Journal Review's Justen Charters:
As Deadspin's Timothy Burke quipped, "something tells us this Romney-Holyfield fight isn't on the level."
Then there were these very unusual Twitter posts featuring Ann Romney:
Before anyone giggles themselves into a coma, note that this spectacle was both deliberately silly and thrown for a good cause. ABC News reports that the bout raised over $1 million for CharityVision, a nonprofit working to eliminate curable blindness across the world.
In a surprisingly funny training montage released before the match, Romney jokingly claimed that "You've heard my critics say that I'm out of touch, that I'm stiff, that I just don't relate to people. For years, I've been listening to garbage like that. And I've decided to fight back."
Finally, we'd like to point out that Romney looks, frankly, incredibly good in boxing shorts for a man pushing 70 wearing. Maybe challenging Holyfield was a bit of overkill, but I'm willing to bet Romney could take most of Congress.
Watch the montage below: