Wild Gunfight in Waco Between Rival Biker Gangs Leaves 9 Dead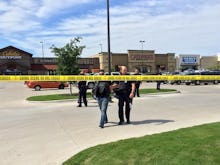 At least nine people are reported dead and multiple others injured after a brawl between rival biker gangs in Waco, Texas turned into a massive and horrifying shootout.
KXXV News Chanel 25 reports that police say the shooting began at a parking lot between "Twin Peaks and Don Carlos restaurants in the Central Texas Marketplace" at around 12:15 p.m. after an argument inside Twin Peaks "escalated to the parking lot."
The Waco Tribune confirmed that the nine dead are all members of biker gangs. Police spokesman Sgt. W. Patrick Swanton told the press that patrons, employees and police officers present all survived the confrontation, which involved at least three separate biker gangs. After an unarmed melee broke out, Swanton says the gang members escalated to chains and knives and then firearms as Waco officers made their own move on the scene.
In the hours following the shoot-out, as many as 192 suspects were arrested, and bail was set at a total of $1 million for many of the gang members being charged with organized crime in connection to a capital murder case, reports Dallas News.
As the jail and courthouse have spent Monday processing all those involved in the shooting, they also began releasing photos of the suspects.
KXXV posted photos of suspects laying handcuffed near the scene of the crime.
Video from the area shows officers securing suspects.
Swanton added that 12 Waco officers including a SWAT team were nearby or present at the restaurant when the shooting began and that law enforcement had been monitoring the gangs involved after becoming aware that they had begun patronizing Twin Peaks. While Swanton mentioned that officers had been involved in the shooting, it is unclear how many of the victims were shot by police or by other gang members.
On Facebook, the Waco Police Department advised that "officers are continuing to arrest individuals coming to the scene with weapons" and urged citizens to avoid the area.
Updated: May 18, 2015 5:40 p.m.