Taylor Swift and Kendrick Lamar Just Dropped the Epic Video Everyone's Been Waiting For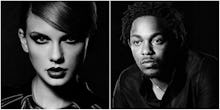 Taylor Swift kicked off the 2015 Billboard Music Awards in the most epic way possible. After weeks of anticipation, she debuted the star-studded music video for her new single, "Bad Blood." It wasn't just a new music video, though — it was a whole new song, featuring two never-before-heard verses from Kendrick Lamar. 
If Taylor Swift won 2014 with 1989, then Kendrick Lamar won 2015 with To Pimp a Butterfly. Now, together, the two are about to take over music all over again.
The video starts with Taylor Swift and Selena Gomez, aka Arsyn, fighting off a group of masked men in an office. Right when the two knock out the last villain, Gomez betrays Swift by knocking her out of a window onto a parked car. Luckily for Swift, she has every possible celebrity, from Lena Dunham to Cindy Crawford, to help her fight back.
Every one of the stars Swift announced on her Instagram — including Zendaya, Ellie Goulding and Karlie Kloss — makes a brief ass-kicking appearance, but Lamar is by far the most important character. He features prominently, cruising beside Swift in a translucent car as he raps. The two have expressed their love for each other's music in the past — Lamar once even freestyled over Swift's "Shake It Off" — and now they're finally together on an official release.
The video is guaranteed to bring the epic success of Swift's 1989 to whole new levels. Her record was one of the only albums to go platinum last year — something many pundits thought couldn't be done. 1989 did it in a week. In fact, it had the largest sales week for an album since 2002, moving 1.287 million copies.
Swift is one of the absolute best at creating an event out of a debut. She and her whole team look like pop culture's Avengers — and she is undoubtedly pop's baddest and brightest.