The Secret Message Behind Taylor Swift's "Bad Blood" Video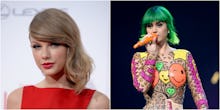 After weeks of hype, Taylor Swift debuted her "Bad Blood" music video at Sunday's Billboard Music Awards. The video is essentially an extended revenge fantasy. It features a whirlwind of CGI-heavy action sequences as Swift trains to take on her arch-nemesis, Arsyn, played by Selena Gomez.
But Gomez isn't Swift's real target. Rumor has it that Katy Perry is.
The beef. The video is the peak of Perry and Swift's long semi-public feud. Swift sparked rumors in a September 2014 Rolling Stone interview. Rolling Stone called "Bad Blood" the "angriest song" on her forthcoming 1989. She revealed that it was about an unnamed female pop star.
"For years, I was never sure if we were friends or not," Swift told Rolling Stone. "She would come up to me at awards shows and say something and walk away, and I would think, 'Are we friends, or did she just give me the harshest insult of my life?'"
"She basically tried to sabotage an entire arena tour," Swift told Rolling Stone. "She tried to hire a bunch of people out from under me." 
The evidence. Swift, ever the politician, didn't name Perry directly in her Rolling Stone interview. But there's a lot of evidence to support the idea that she was talking about the star. 
The "sabotage" Swift refers to was likely her loss of three backup dancers from the Red tour to Perry.
"I was with Taylor for the first six months,'' Lockhart Brownlie, one of those dancers, told the Examiner. "It was a great experience and she's a great person to work with, but then Katy contacted us ... We weren't really dancing in Taylor's tour anyway, so I had got a little bored and I really wanted to do a promo tour."
After Swift's interview, Perry took to Twitter with a jab of her own.
Bad Blood. The lyrics of Swift's "Bad Blood" take brutal digs at her nemesis: "Band-aids don't fix bullet holes / You say sorry just for show," she sings. "Still got scars on my back from your knife."
Even worse, in Swift's liner notes for 1989, the lyrics for "Bad Blood" are on the page opposite a picture of Swift's Grammy. For the record, Swift has seven Grammys and Perry has zero — a detail that did not escape the two stars' Twitter fans.
Raising tensions even more, Swift and Perry were both up for Top Female Artist at Sunday's Billboard Music Awards. The award went to Swift. The two may have bad blood, but only Swift is taking public shots now. Either way, this has become the most outlandish pop feud in recent history, and Swift doesn't seem to be calling it off anytime soon.