In One Quote, Salma Hayek Perfectly Nails What's Wrong with Sexism in Hollywood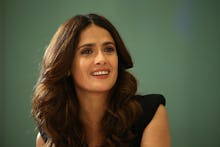 During a United Nations Women panel hosted by Variety magazine at the Cannes Film Festival on Saturday, actress Selma Hayek and several other influential female figures discussed a variety of issues around sexism in media. In addressing Hollywood's well-documented gender pay gap, Hayek had a biting line that put the issue into stark perspective. 
"The only kind of movie where women make more than men is the porno industry," Hayek boldly stated, according to the Independent.
This quote not only captures the relentless problem of pay inequity, but also the source of it: When women are objectified and reduced to a male fantasy, they are literally valued more. 
The widely cited statistic of women making 77 cents to every man's dollar across America looks extremely generous compared to Hollywood's pay gap, where top actresses earn roughly 40 cents to every actor's dollar, according to Slate. Even when numbers exceed this abysmal average, they're not great. Jennifer Lawrence and Amy Adams, both major stars in their own right, earned 28% less than their male co-stars in American Hustle.
The disparity is not strictly financial either, but also lies in professional opportunities. Of the past year's 250 highest-grossing films, only 17 were directed by women, Variety reports. 
At this year's Academy Awards ceremony — which many branded as sexist and racist given the lack of diversity among the nominations — Patricia Arquette delivered a rabble-rousing acceptance speech about feminism and equal pay. While the thrust of her message was largely supported, not much change appears to have been affected since then.
The movie-making process is also inherently biased, according to Hayek. The actress said male leads often get final approval over their female co-stars, which can cause trouble even if a director has approved an actress. "I've had movies where the director really wanted me, but the dude didn't approve and I've got pipped out," she said, according to the Telegraph.
Hayek continued, "In scripts, a lot of the time there is a part that's good, that then starts dumbing down. If you get on set and start to make it better, they don't like it."
Hayek said the industry's sexism pertains also to movie content: "For a long time they thought the only thing we were interested in seeing were romantic comedies." She said gender inequality in Hollywood "undermines women's intelligence," the Telegraph reported.
Not seeing women as strong and autonomous economic players, either as actors or audiences, is both belittling and results in marginalization. Hayek clearly defines the root of the problem as an inadequate valuation of women's abilities: "They don't see us as a powerful economic force, which is an incredible ignorance." Unless this fundamental bias is addressed, no lasting change can be made.