One Tweet Shows the Hypocrisy of How the Police Treat White Criminals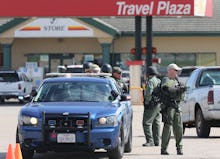 On Sunday, members of two rival biker gangs began an altercation at a parking lot in Waco, Texas, after a fight escalated between the groups inside a local restaurant. The confrontation left nine dead and 192 arrested before police were able to regain control. 
Photos posted on Twitter showing how the arrests went down are now causing controversy online due to what some are saying is the very casual demeanor of officers and suspects. As one Twitter user pointed out, comparing what happened after a mass shootout in Waco to a man walking home last August in Ferguson, Missouri, paints a clear picture.
The comparison was brought about after a photo started going viral of the gang members sitting around after the shooting.
In the above tweet, gang members can be seen calmly sitting alongside their police captors. None of the men appear to be cuffed, and one seems to be checking a cellphone. Despite the armed confrontation resulting in nine deaths, a single armed officer sits completely unperturbed among the men. 
The blasé treatment of white suspects in Waco contrasts sharply with recent instances of police brutality toward minority suspects around the country, most recently in Baltimore.
It was in Baltimore, on April 12, that an injured Freddie Gray was forcibly apprehended by multiple members of the Baltimore Police Department and taken into custody. Gray later died at the hands of police in what was ruled a homicide by a city medical examiner. Unlike members of the Texas biker gang, Gray had committed no crime and the knife officers found on him was legal under Maryland law. 
The death led to widespread protests in Baltimore and around the country with a very different police reaction.
The photo adds weight to a growing chorus of activists who have charged that Gray was hardly unique and police departments around the country suffer from both institutionalized racism and a double standard when it comes to minority suspects. 
For example, far from killing anybody, Eric Garner, a black man in New York City, was choked to death by members of the New York Police Department for the crime of selling loose cigarettes. Tamir Rice didn't even commit a crime; the Cleveland 12-year-old was gunned down by police for nothing more than having a toy gun in a park. When the NYPD tried to improve their image with a #MyNYPD Twitter hashtag campaign, urging people to upload photos of their experiences with the department, the social network was inundated, but not in the way police had intended.
Police brutality is a terrible problem, but it is not one that affects all races equally. More attention must be paid to this double standard if society and enforcement are truly serious about addressing it.