Obama Just Announced a Huge Step to End Police Militarization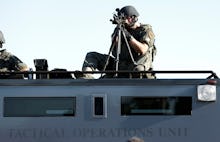 The White House announced Monday that it will ban or restrict the transfer of a wide range of military-style equipment from the federal government to local police departments.
According to CNN, the ban includes equipment such as "tank-like armored vehicles that move on tracks, certain types of camouflage uniforms, bayonets, firearms and ammunition of .50 caliber or higher, grenade launchers and weaponized aircraft." 
Tighter restrictions will be placed on other items, including some wheeled armor vehicles, drones, and riot gear. To use equipment on this more closely regulated list, police will be required to obtain the approval of local governing bodies and undergo expanded training regimens and data collection, Fox News reports.
The ban: The new limits on the flow of military equipment are being instituted in the aftermath of a spate of highly publicized killings of unarmed citizens by police in New York, Baltimore, Ferguson, Missouri, and other cities in the past year. The new bans and restrictions are a notable development in President Barack Obama's administration's response to the fierce public response to the deaths — up until this point, the White House had ordered a review of the transfer process but not taken measures to reduce the actual federal provision of equipment.
"We are, without a doubt, sitting at a defining moment in American policing," Ronald Davis, director of the Office of Community Oriented Policing Services at the Department of Justice, said during a call with the media, according to the New York Times. "We have a unique opportunity to redefine policing in our democracy, to ensure that public safety becomes more than the absence of crime, but it must also include a presence for justice."
Going forward: According to the Times, the administration will also publish Monday a report put together by a White House-initiated policing task force with recommendations for police departments across the country to "embrace a guardian — rather than a warrior — mindset to build trust and legitimacy both within agencies and with the public."
Obama is also expected to speak in Camden, New Jersey, on Monday in order to draw attention to the city's policing model. The impoverished city has seen its extraordinary crimes rate fall after disbanding its local police department and forming a new one that has placed greater focused on community relations.