What the Kardashians Can Teach Us About Understanding a Trans Family Member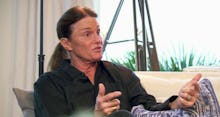 We've already had Bruce Jenner's side of the story. Now, we're learning more about his* family's reaction.
Sunday night's Keeping Up With the Kardashians on E! was filmed in January, before Jenner came out as a transgender woman in an interview with Diane Sawyer. In the episode, the family discussed how the public revelation would change their lives. 
"My family's feelings are included here in the hope that other families will know that they are not alone," Jenner said in an on-screen message that opened the episode. "Today my family loves, supports and accepts me as I am ... and I am so grateful." 
But as part one of "About Bruce" demonstrated Sunday, it's a process that can take time for loved ones. 
Some family members experience grief. After a close relative or friend comes out, some family members run through the cycle of denial, anger, bargaining, depression and — potentially — acceptance. Although Jenner's family members seemed to recognize his trans identity, each of them had their own way of coping with this new reality. For example, in one touching moment, Bruce had to reassure daughters Khloé Kardashian and Kendall Jenner that his identity as a transgender woman doesn't mean he's going to leave them behind.
"I'm not going anywhere. It's like all of a sudden you're getting this feeling that I'm abandoning you," Jenner said, to which Kendall tearfully replied, "I think it's just scary when someone says that Bruce is going to be gone, and you're not going to be like you anymore." 
Khloé, on the other hand, was upset she didn't know about the Diane Sawyer interview sooner, in addition to other details of Jenner's transition. "I don't think it's fair that you don't tell us," she said. "We're still your kids." 
Although Jenner told Sawyer that, of all his children, Kim has been the most understanding, Sunday night's episode of the Kardashians underscored that taking one's family along for the journey can be a daunting task. 
"Sometimes it's easier to talk to people you don't know about this issue than it is to your kids," Jenner said during the episode. 
Family members learn a lot, too. Some family members may take longer than others to fully understand a family member who comes out. Some may feel anxious about how the transition may change the nature of their relationships. The process may even bring up unresolved questions or feelings about what it means to be trans, including the use of proper terminology or worries about how discrimination from others could affect their loved one. 
"To think of someone giving him hate or not being OK with who he wants to be and who makes him happy, that scares me," Kendall said. 
Even watching the special for the first time Sunday was a lot for sisters Khloé and Kim to take in, having to relive many tense and tear-filled family discussions, as well as the differences in how each family member coped with the news. 
What the episode can teach others. The second part of this episode will air Monday, but so far, the family's reaction has added a layer of humanity to what's become a public spectacle around Jenner's gender identity. Even though he's a public figure, he's still a human being who must come to terms with living openly as a trans woman and reconcile his family relationships. Still, it's important to remember that not all transgender people can have such candid family discussions, as many are ostracized or isolated from their loved ones for being who they are. 
When a high-profile family like Jenner's is willing to support their loved one through the journey (at the very least on camera), the process may not always be a neat one, but there's hope for better understanding with time. 
*Jenner has requested to use male pronouns and the name he was assigned at birth until a date to be determined.