David Letterman's 9 Best Moments From Over 20 Years of 'The Late Show'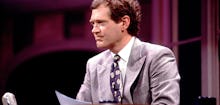 After 22 years on CBS with The Late Show, plus 11 years on NBC at Late Night before that, David Letterman's tenure in late night is coming to an end. It's been a successful, groundbreaking run for the late night innovator, but the changing of the guard has come.
"I hear about things going viral and I think, 'How do you do that?'" Letterman told Rolling Stone of his show's "weakness" in recent years. While his competitors, Jimmy Fallon and Jimmy Kimmel, are crafting Internet-ready hits, Letterman still uses the more traditional bits-and-interviews format favored by his mentor, the late Johnny Carson. Letterman decided to retire once he came to the realization that he is, as he put it, "the blockage in the plumbing."
Still, it's vital to remember Letterman was once the new kid on the block with ambitious ideas. The biggest change he brought to late night was a blunt honesty in both his monologue and with his guests. The congenial air of a Fallon or new entrant James Corden deeply contrasts with Letterman at his sharpest. That razor-edged wit is what made Letterman stand out. With the way late night is wading further into earnestness and zany hijinks, he'll likely be the last to employ that style for some time, perhaps ever.
Here are a few times the host's approach — and the approach of his guests, many of whom were just as feisty back — made waves over the years.
Sept. 25, 2008: Letterman rips into John McCain
When the economy collapsed in 2008, the then-presidential candidate canceled on Letterman and purportedly ran to Washington to help figure out a solution. Letterman understood the choice, though as he slowly explained what had happened, it became clear he was furious. It was a slow burn until the big reveal: Instead of actually going to Washington, McCain went to talk to Katie Couric, then the host of CBS Evening News. Letterman even got a video feed of McCain getting made up for his interview. Letterman's quiet fury was delicious to watch — and led to McCain apologizing during his next appearance on the show.
May 22, 1986: Cher calls Letterman an "asshole"
For every time Letterman ripped into a guest, there was a time a guest ripped into him. Despite repeated attempts to get Cher on his show, the singer consistently rebuffed him for over four years. When she finally did come on, he tried to get to the bottom of what her reticence was. Simply put, she believed him to be "an asshole." She wasn't wrong, of course.
April 12, 1995: Drew Barrymore flashes Letterman
For his birthday in 1995, Barrymore got Letterman a special present: a striptease. In a bizarre bit, she climbed onto his desk and flashed him her breasts. Letterman's shocked appearance was reward enough to make the stunt  worth it. Years later, Barrymore expressed zero regrets for the incident — and rightfully so.
Sept. 17, 2001: Letterman offers touching tribute after 9/11
Though he's a hilarious man most of the time, Letterman can also strip it down in troubling times. His first show after 9/11 was thoughtful, searching and inspirational. He took time to pay tribute to then-New York Mayor Rudy Giuliani, saying he was the reason Letterman wanted to go back on the air. "Rudolph Giuliani is the personification of courage," he said. "There is only one requirement for any of us, and it is to be courageous. Because courage, as you might know, defines all other human behavior."
Sept. 28, 2007: Letterman grills Paris Hilton about prison
One of Letterman's greatest skills is his ability to not let anything go. Too often these days, hosts and moderators let bygones be bygones to avoid awkward moments or making celebrity guests feel uncomfortable. Letterman made Paris Hilton's first post-prison appearance on the show a memorable one by relentlessly grilling her about the experience. When she tried to dodge or talk about one of her vanity projects, the host wound the talk right back. It was excruciating to watch in the best way.
March 31, 1994: Madonna curses Letterman out
One celebrity guest who most certainly felt comfortable was Madonna, whose 1994 appearance was perhaps the strangest late night show appearance of the decade. It included the queen of pop saying "fuck" 14 times, calling Letterman "a sick fuck" and refusing to leave the stage at the end of her segment. Was it tremendously weird? Yes. Did it make for fascinating television? For sure — or, as Madonna might have put it, "absofuckinglutely."
Feb. 11, 2009: Joaquin Phoenix perplexes Letterman
Phoenix duped the world into thinking he'd lost his mind when filming Casey Affleck's I'm Still Here. One of his most high-profile victims was Letterman, who had him on the show in 2009 to promote his film Two Lovers and was greeted instead by a bearded, sunglasses-wearing, gum-chewing mess. Phoenix's answers were incoherent and bizarre, but Letterman gamely played along and verbally swatted him around a bit. His final kiss-off — "Joaquin, I'm sorry you couldn't be here tonight" — showed exactly why Letterman is an icon.
Jan. 19, 2010: Letterman weighs in on The Tonight Show debacle
How did Letterman come to be on CBS after starting his career at NBC? After Carson retired from The Tonight Show, it was expected Letterman would be next in line for the chair. NBC went with Jay Leno. This led to Letterman defecting and starting his own program in the same timeslot as The Tonight Show. Fast-forward almost two decades and history was repeating itself, with NBC attempting to knock new Tonight Show host Conan O'Brien out of the hollowed 11:35 timeslot in favor of Leno. Furious at what he saw as another talented young voice being screwed by NBC and Leno, Letterman took to his show almost every night of the debacle to hilariously but passionately condemn the network and host. His explanation for his intensity: "I'm really enjoying it. It's just fun."
Dec. 1, 2005: Oprah Winfrey and Letterman feud ... then make up.
Letterman's greatest feud wasn't with Leno, however. It was with Oprah, who came on his show in 1989 and refused to return for years. The ice was finally broken when she came back in 2005, explaining she was mad at him for not defending her against a heckling cast member. Things have cooled significantly since then, Winfrey even joining Letterman for one of his final shows last week. It may have been a cold 16 years, but the resolution was truly sweet.