Here's Why Bernie Sanders' Revolutionary New Plan Is a Feminist Victory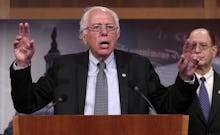 On Tuesday, Sen. Bernie Sanders (I-Vt.) introduced a bill that could radically benefit future generations of Americans. The College for All Act would eliminate undergraduate tuition by requiring the federal government to cover 67% of college costs ($47 billion each year) and states to cover the remaining 33% ($23 billion), according to USA Today.
"I want a more educated work force," Sanders said Sunday in a statement Mic reported. "I want everybody to be able to get a higher education regardless of their income." But access to higher education for all, and a resulting competitive workforce, will remain a lofty dream, he noted, "if every year, hundreds of thousands of bright young people cannot afford to go to college, and if millions more leave school deeply in debt."
As of 2014, 40 million Americans have student loan debt, according to CNN, and the New York Times reports almost 20% of U.S. student borrowers are in default. Furthermore, student debt — which has reached a whopping $1.2 trillion, according to USA Today — has doubled in the past 20 years.
The average $35,000 of debt per student in the class of 2015 is certainly crippling for individuals as well as our nation at large, but what's often overlooked is the way in which student debt uniquely impacts women — historically, socially and personally. Liberating women from student loan debt is therefore not just compatible with feminism, but perhaps even necessary for the movement to progress.
You've come a long way, baby: For centuries, American women were either under the care of their parents or rarely had an individual legal existence as an adult, because their husbands were legally in charge. Under coverture, it was illegal for women to control their own finances, and any wages women earned automatically became their husband's. 
The general concepts behind this colonial legal reality remained intact well into the 20th century. It was perfectly legal to pay women less until the Equal Pay Act was passed in 1963 (which, it's worth noting, has not prevented women today from earning less money than men for equal work, on average). As recently as 1988, when the Women's Business Ownership Act was passed, women in some states still legally needed a male relative to co-sign their loan for anything from a business to a car to a home — even if they were employed and financially qualified.
We're still catching up: These days, women are more independent — and therefore have more financial responsibilities — than ever before. Forty percent of American households with children under the age of 18 included mothers who were either the sole or primary source of income in a 2013 Pew Research Center analysis. 
But the historical shutting-out of women from careers, fiscal decisions and financial independence has had long-term effects. Financial education firm co-founder Eleanor Blayney told USA Today the financial industry "misses some fundamental truths about women and the way they think and make decisions." In fact, a 2015 study found that 4 in 5 women surveyed felt uncomfortable talking about finances with someone they're close to, according to U.S. News & World Report. Of the respondents, 63% were not confident about handling retirement planning on their own, and only 28% felt confident picking investments without help.
Despite these figures, independence is important to young women: A 2010 study found that millennial women value "independence and self-direction" above all else, the Christian Science Monitor reported. And a 2011 Pew Research Center study revealed that 66% of women aged 18 to 34 highly prioritize their careers, beating out the 59% of men who said the same thing.
When independence means debt: While a college education is a route to independence, it also paradoxically requires financial stability to eventually deal with it. With more women pursuing degrees than men and outpacing historical enrollment rates, student debt impacts all major financial decisions young adults make. According to one 2013 American Student Assistance survey, for example, 75% of respondents said student loans affected their decision or ability to purchase a home, 63% said it impacted their ability to buy a car and 27% said it even made buying daily necessities difficult.
Even beyond concrete costs, survey respondents reported that their debt impacts decisions they make about their personal lives, including career choice (30%), putting off marriage (29%) and starting a family (43%). Making decisions about work-life balance — leaning in or opting out — isn't just a personal matter of empowerment, therefore, but a practical financial one. Having children requires expenses like child care, for example, which may be out of the question for women with heavy student debt.
At a time when women arguably have more autonomy than ever before, they're still finding themselves prohibited from pursuing the futures their foremothers worked to secure for them. Graduating college debt-free is not just about financial stability for individual students, but also benefits the broader landscape of social equality.