Beyoncé and Nicki Minaj Just Dropped a New Music Video on Tidal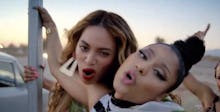 On Monday, two of pop's baddest stars, Nicki Minaj and Beyoncé, premiered a new music video for their song "Feeling Myself" via Tidal. It shows the two having a grand old time in the deserts outside of Coachella and inside the fest itself. And it looks like the most fun of all time.
The full video is on Tidal, the preview of which is below (the bootleg versions online are getting pulled quickly):
That same chemistry they displayed on the record when it dropped in December carries through in the video. They keep it loose, fun and campy. 
The two eat burgers with interlocking arms:
And smile fondly at one another:
And obviously they break it the down on the dance floor:
Of course, the video is low quality for all of us who aren't elite enough for Tidal subscriptions. But as with other Tidal premieres, the stars will likely put it up on their YouTube accounts soon enough to head off the pirates. Until then, we can all just enjoy our bootleg copies of the song's badass female-driven power pop like it's the early 2000s and we're still on Kazaa.