These Dolls Represent an Often-Ignored Group of Kids Around The World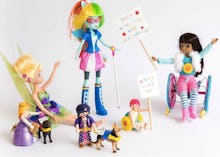 More than 150 million children worldwide live with disabilities. And yet the toy industry — one of the largest industries that specifically markets to children — mainly ignores them. 
These children "are excluded by the very industry that exists to create their entertainment, the objects that fuel their development, the starting blocks of life: toys," Rebecca Atkinson wrote in the Guardian on Monday.
But Atkinson, who grew up with a hearing impairment, recently contacted two friends who are also mothers of children with disabilities in an attempt to make a change. The trio launched Facebook and Twitter campaigns to "call for better representation and diversity in the toy box," according to the Toy Like Me Facebook page.
Who's next? While the campaign has certainly raised awareness, the women have also inspired tangible results. British toy company Makies was inspired by the campaign to create 3-D printed dolls with hearing aids, a walking stick, birthmarks and scars; the company is also working on creating dolls in wheelchairs and with walkers and canes as well as made-to-order birthmarks, BuzzFeed reported.
While the Makies dolls are welcome, the #toylikeme team is looking to major players like Lego, Mattel and Playmobil, to step up, Atkinson wrote in the Guardian. These manufacturing giants have yet to respond, according to Atkinson, but they aren't the first major toy companies to ignore the call for more representative dolls.
Last year, for example, then-10-year-old Melissa Shang, who has muscular dystrophy, created a petition asking American Girl to release a disabled "Girl of the Year" doll. Despite receiving 145,435 supporters, however, American Girl named Grace, an entrepreneurial baker, its Girl of the Year. Like the forces behind #toylikeme, Shang refused to give up and instead co-authored with her sister a book featuring a disabled protagonist.
While these individuals' efforts are inspiring, they still hope for — and surely deserve — a response and further action from the companies they have petitioned. The representation of children with disabilities on the mass-scale manufacturers can influence would likely do much to benefit children with disabilities' self-conception, as well as fight the marginalization these individuals often face.
As Melissa's sister, Eva, told Mic in January, "I think people often see kids with disabilities as merely pity cases, just because that's how they're represented so often in books and media ... Everyone is interdependent and faces different challenges — having a disability doesn't make you any less of a person able to make a change."
Creating dolls with disabilities, therefore, is about far more than an untapped market or political correctness: It's about changing the way the world views a marginalized and misunderstood population.
h/t Feministing