More Proof that Our Instagram Hashtags Don't Exactly Reflect Real Life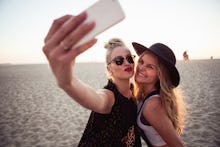 Are you more of a #love or a #dildo person? 
That's what the Superdrug Online Doctor examined when it combed through 645,368 Instagram posts from the United States plus 650,636 posts from Europe, seeing how many photos were labeled with certain hashtags: #dildo, #vibrator, #love, #pizza, #gym, #xbox, #marriage, #girlfriend, #tinder, #tinderproblems and more.
The finding? We may be having sex, but when it comes 'gramming, we're all about love. 
The data showed an overwhelming number of photos dedicated to #love in both the United States and Europe, with just a few locations posting about their #dildo and #vibrator more frequently, including New Hampshire, Vermont, New York and Montana. 
Superdrug Doctors explained the research process to Mic: "These posts were fetched using the Instagram API to retrieve publicly accessible posts that were also geo-tagged. That is, the users' accounts were set so that one can see their images without them having to be confirmed as a follower, and the user opted to have the latitude and longitude of their image included in the post." 
More #love, less #sexytimes: The fact that America seems more love-happy than sex-crazed isn't all too surprising — not because we're not having sex, but because Instagram is a perfectly curated, "like"-approved place where people are excessively prone to public displays of affection. Waxing on about our masturbation habits or sex lives? Not likely. Even if we wanted to, the #sex hashtag and eggplant emoji searches have been banned from the picture sharing behemoth. 
It's not like we're not having sex. Over 90% of Instagram's 150 million users are under 35, according to Business Insider; and Americans start having sex around 17, and adult millennials have about 8.26 sexual partners, on average. Plus, with the rise of the dick pic and sexting, Lord knows we have sex on our phones.
But on Instagram, we're all about #love, particularly (and unsurprisingly) in more traditional, conservative-leaning states. (Leave it to the liberal-leaning, sexually progressive blue states to go out on the limb and post their #dildos and #vibrators.)
What do we really love? Pizza: That said, all that #love posting might not be love for fellow humans — it might be #love for food. 
The geo-tagged hashtags revealed that for the "pizza is my lover" crowd, #pizza beats out #girlfriend across the United States, whereas #marriage has a little more popularity. Those states that see more #marriage posts are, unsurprisingly, broadly reflective of the states' political leanings.
"The victory of #marriage over #pizza seems to align with more traditional family values for states around the Bible Belt," the data analysts wrote. "This is the same in other conservative states in the West, including the Mormon capital of Utah, while pizza reigns supreme in the more liberal northeastern states."
Additionally, the data showed that more areas were posting about the #gym than their #girlfriend in both the United States and Europe. The states that favored love over sweat and cheese? Just Idaho, Nebraska and Kentucky.
In short, if you trust Instagram hashtags, our lives are really all about pizza. Relationships and sex? Eh.
Even though this data is clearly a marketing effort for a company, it makes a good point that the Hudson filter we put on our everyday lives doesn't necessarily reflect our reality. Are there really more people coveting pizza over committed relationships or falling in love in far greater numbers than having sex? Probably not — but that's not always the reality we face Instagram-forward.
h/t Refinery29