Miley Cyrus Just Covered Two Classics — And Made Them Sound Better Than Ever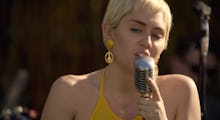 Miley Cyrus has owned the Internet for the last two weeks. Her Backyard Sessions video series has featured her covering classic songs with musical legends like Joan Jett and Ariana Grande, all for a good cause: raising awareness and support for her charity, the Happy Hippie Foundation. 
Every video has been surprisingly powerful. This finale is no different. On Monday, Cyrus released the last two videos in her Backyard Sessions, covering the Turtles' "Happy Together" and Paul Simon's "50 Ways To Leave Your Lover."
"These last 2 weeks have been magical! But this is just the beginning not the end! I can't believe this was just a dream and now it's a reality!!!!" Cyrus wrote on Facebook.
Simon's complex break-up ballad and the Turtles' optimistic love song, provide the perfect emotional one-two punch to close out the series. They offer a glimmer of hope for the future of Cyrus' Happy Hippie foundation in its fight to supporting homeless youth, LGBT youth and other vulnerable populations.
"The Happy Hippie Foundation is encouraging people to be the artists of a picture of true freedom, freedom of self-expression... freedom to be true to themselves," Cyrus wrote in an a Happy Hippie op-ed "Innovators vs. Dinosaurs." "The fight to be free isn't over. We have to rally together and fight injustice."
Cyrus' videos have provided some incredible visibility for her cause. Her Joan Jett-assisted cover of "Different" kicked the series off right, while their cover of the Replacements' "Androgynous" lent a platform to one of the most powerful transgender voices in music, Against Me!'s frontwoman, Laura Jane Grace. And love was definitely in the air during Cyrus' cover of "Don't Dream It's Over" with Ariana Grande.
A few days before that two-week run, Cyrus also made a bold public statement against gender normativity by dying her armpit hair pink. Knowing Cyrus, it seems likely the artist has many more epic stunts lined up to promote Happy Hippie.
"When you have all eyes on you, what are you saying? And that's what I had to ask myself a lot," Cyrus told the Associated Press. "It's like, I know you're going to look at me more if my [breasts] are out, so look at me. And then I'm going to tell you about my foundation for an hour and totally hustle you." 
h/t Rolling Stone