Can You Spot the Huge Problem With This Yearbook Photo That's Going Viral?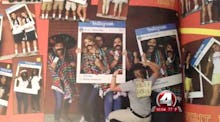 These days, in a supposedly post-racial America, many people believe the best way to get rid of racism is simply to not talk about it — or, as the saying goes, to "not see race."
Unfortunately, it just doesn't work that way. Racism as a social construct runs deep throughout the country's history and thoroughly dominates everyday social interactions.
For one striking example, take a look at this yearbook photo from a high school in Naples, Florida:
What's wrong with this picture? A group of students posed in ponchos and sombreros, wearing long, thick mustaches while carrying maracas, tambourines and green cards — with another student dressed as a border patrol officer posing in front of them. According to Fox 4 News, the students involved said they took the photo for "twin day" during the high school's spirit week. But when a Latina senior recently opened her yearbook, she was taken aback by what she saw.
"It was just really offensive because it kind of belittles the whole issue," Naples High School student Jennifer Morales told Fox 4, referring to stereotypes about immigration, a process both of her parents are still going through. Morales's father, who eventually saw the photo, added, "It's really racist, I can tell you that. ... I've never seen anything like that, I thought it was 2015 and people don't act like that."
But somehow, this photo managed to get into a high school yearbook. In an off-camera interview, the students involved in the questionable photo said they took it just as a fun activity during spirit week, not to be hurtful or make political statement. 
However, that's not how Morales and her friends understood the picture, as people targeted by the cultural stereotyping and offensive jokes at play.
But what if we don't see race? Colorblindness is part of the problem. According to research conducted by MTV Networks, 73% of young people believe never considering race would improve society. And 68% of those polled believe focusing on race prevents society from becoming colorblind.
However, a lack of awareness about racial stereotypes and disparities often renders others' struggles with oppression invisible. The "melting pot" is a hallmark of American society, where the contributions of various cultures are celebrated, while still considered part of the whole. How can other's cultures be respectfully celebrated with little-to-no awareness about those differences in the first place?
In a statement to Fox 4, a Naples school district representative said that the yearbook staff has a content reviewing process, but that the photo in question regrettably wasn't flagged for screening. "We regret if any Golden Eagle student, parent or community member found it offensive. It was not our intent," the statement said. 
The students involved may simply not have known better. But this moment will serve as a valuable learning experience for their community and others.