Searching for This Racist Phrase on Google Maps Takes You to the White House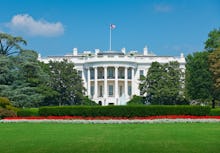 Google Maps may be the best software for getting around, but that doesn't mean it's troll-proof. On Tuesday, Activist Deray McKesson highlighted the racist result that turns up when you search for "nigga house" in Google Maps. 
It takes you straight to the White House: 
The result was confirmed when Mic searched for the phrase in an incognito window using Google Chrome. A red pin popped up, describing the location as the "iconic home of America's president." The result was still showing up during incognito searches as of press time. 
McKesson subsequently noted that he searched for the phrase after someone alerted him to the fact. "I typed it myself," he tweeted. "Shocked."
Google made headlines on May 8 after it announced that public edits would no longer be allowed to its maps, after a number of incidents in which trolls added "fake edits," like an Android urinating on an Apple logo and a pin with the phrase "Edwards Snow Den" on top of the White House. 
It's unclear how this latest act of vandalism made it into the mix. "Some inappropriate results are surfacing in Google Maps that should not be, and we apologize for any offense this may have caused," a spokesperson for Google told Mic in an email. "Our teams are working to fix this issue quickly."
May 19, 2015, 6:10 p.m. This story has been updated.
h/t Deray McKesson via Twitter