Columbia Rape Survivor Emma Sulkowicz Carried Her Mattress Across Honors Ceremony Stage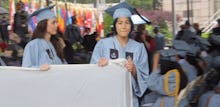 On Tuesday, Emma Sulkowicz, the Columbia University student who garnered national attention when she decided to carry her mattress everywhere with her in protest of the school's response to her rape allegation against a fellow student, carried her mattress on stage with her as she walked to receive her diploma.
Sulkowicz alleges she was raped on the first day of her sophomore year in August 2012. After her dissatisfaction with the university's handling of the ordeal, she channelled her energy into her senior thesis, a protest and performance piece, entitled Mattress Performance (Carry That Weight).
When she started her senior thesis, Sulkowicz said she would not stop the project until either her rapist was expelled or she graduated. Her alleged attacker was not expelled, and Sulkowicz kept to her word, completing her protest at a pre-Commencement honors ceremony.
Friends helped her carry the mattress on stage, where Sulkowicz  was met by an eruption of applause despite the traditional expectation the audience reserve applause until after all the graduates have been called up. 
While there were general restrictions on weight limits for the ceremony, Sulkowicz was not explicitly told to not bring her mattress, Mashable noted. 
"We communicated to all students that the shared celebratory purpose of Class Day and Commencement calls for mutual respect for the security and comfort of graduating students and their families in attendance," Columbia University said in a statement, Newsweek reported. 
The controversy. Given the lack of hard evidence, Sulkowicz's accusations sparked a national debate, dividing the country by those who believed her and those who didn't.
Following the initial controversy, some came to the defense of alleged rapist Paul Nungesser, arguing there are differences in narrative and "conflicting perceptions" of their accounts, as evidenced by Sulkowicz's messages to Nungesser before the alleged rape. Those interactions included things like, "Whatever I want to see yoyououoyou," and, "I love you Paul. Where are you?!?!?!?!" in response to Nungesser's affectionate birthday message.
A week later, another Columbia student wrote an op-ed in Sulkowicz's defense for the university newspaper. "But to me, these messages don't seem like definitive proof of anything. Many survivors of sexual assault maintain cordial, even affectionate, contact with the person who attacked them. I know, because I'm one of them," the anonymous student wrote.
Whether people believe Sulkowicz or not, one thing is undeniable: She has become a national figure, a face for historically ignored sexual assault on college campuses, even attending the most recent State of the Union as New York Senator Kirsten Gillibrand's guest. Sulkowicz got the nation talking and thinking about university sexual assault, and that's an important achievement in itself.