One of America's Biggest Cities Just Approved a $15 Hourly Minimum Wage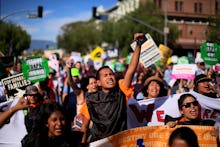 On Tuesday, Los Angeles became the biggest city in the United States to officially approve a plan to implement a $15 minimum wage.
The Los Angeles Times reports a city council measure to raise the minimum wage in the city from its current $9 an hour base wage to $15 an hour by the year 2020 passed by a sweeping 14-1 vote. The new regulations could eventually affect as many as 800,000 employees. The measure easily defeated a competing proposal to raise the city's minimum wage to $13.25 by the year 2017.
According to the Los Angeles Times, City Attorney Mike Feuer will have to prepare an ordinance for final approval next month. Current Mayor Eric Garcetti has committed to approving the bill into law.
The background: Los Angeles' historic decision followed months of nationwide protests organized by workers for major fast-food chains demanding $15 hourly compensation. In recent years, American workers have seen stagnant wage growth, while researchers estimate that 95% of income growth since the 2009 Great Recession has gone to the wealthiest 1% of Americans.
While the coalition of activists has been asking for a $15 minimum wage for years, before Tuesday's announcement in LA, the only major city to openly adopt the idea was Seattle. The New York Times cites credible analyses of the LA labor market indicating that up to 50% of the city's workforce makes less than the new minimum, meaning that the wage increase will likely be the biggest shock to the city's labor market in recent memory.
"Make no mistake," city Councilman and key backer Paul Krekorian said, according to the Los Angeles Times. "Today the city of Los Angeles, the second biggest city in the nation, is leading the nation."
What it means: The bill in Los Angeles dwarfs President Barack Obama's ongoing effort to raise the federal minimum wage to $10.10, an objective which has consistently been thwarted by Republican opposition in Congress. While the president has seen limited success raising the wages of federal contractors to that level via executive order, proponents of a higher minimum wage that better reflects skyrocketing worker productivity have enjoyed limited support on the national level.
Los Angeles' $15 minimum wage seems poised to shatter the perception that paying workers at the bottom end of the income scale a decent income is a pipe dream. But with widespread opposition among the business community and its friends in D.C., the city's experiment in income equality will likely face high scrutiny moving forward.