What the Hell Happened to Aqua?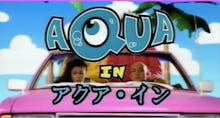 —The year was 1997. The U.K. returned Hong Kong to the Chinese. Princess Diana died in a car accident. NASA's Pathfinder landed on Mars. And Aqua released "Barbie Girl."
The Danish-Norwegian electro-pop group's single debuted at No. 7 on the Billboard Hot 100, making it the highest-charting debut ever for a new group at the time; to this day, Aqua remains the most successful Danish band of all time. The bubblegum pop song was one of the stickiest earworms ever written, and it came at the perfect time. Seventies kitsch was in full swing as '90s novelty: Flower power, lava lamps and smiley faces were at the peak of popularity, and pastel "Barbie Girl" was no exception.
Aqua's success came practically overnight, but their immense popularity disappeared almost as quickly as it appeared. What happened to the band after their hit song faded from the charts was neither plastic nor fantastic.
Aqua in the Supreme Court: One year after Aqua released "Barbie Girl," the doll's manufacturer, notoriously litigious Mattel, took legal action against the band in a lawsuit that would last five long years and go all the way to the Supreme Court. In Mattel v. MCA (MCA was Aqua's record label), Mattel sued on the grounds that Aqua's song defamed Barbie's good name and even "confused" children, according to CNN.
The lyrics in question: "I'm a blond bimbo girl, in a fantasy world / Dress me up, make it tight, I'm your dolly / You're my doll, rock 'n' roll, feel the glamor in pink / Kiss me here, touch me there, hanky panky." Mattel claimed in court that Aqua's lyrics "associate sexual and other unsavory themes with Mattel's Barbie products."
MCA countersued, and the lawsuit finally came to an end in 2002 in favor of MCA. In one of the most awesome decisions ever handed down, Circuit Judge Alex Kozinski wrote, "With fame often comes unwanted attention ... The parties are advised to chill."
But while the lawsuit was underway, Aqua faced other obstacles that led to a flopped album and a temporary hiatus.
Failed comeback: In 2000, Aqua released their sophomore album, Aquarius. It was a flop compared to their debut album, Aquarium; Aquarius peaked at No. 82 on the Billboard 200, compared to Aquarium's No. 7 ranking. Its single, "Cartoon Heroes," failed to chart at all in the U.S. The album turned out to be more than just a slump, and the band split in 2001.
"We have looked each other straight in the eye and reached the conclusion that, for the moment, the spark is missing," the band wrote in a statement, according to Billboard.
Rumor has it that the band's split actually came about because of a love triangle. Lead singer Lene Nystrøm ("Barbie") allegedly hooked up briefly with bandmate René Dif ("Ken"), then she cheated on him with their bandmate, Søren Rasted (keyboardist). Regardless of what caused the rift, Rasted and Nystrøm are married and have two kids together.
Meanwhile, each of the Aqua bandmembers pursued less than successful but very intriguing solo careers.
Lead vocalist Nystrøm released a solo album in 2003 called Play With Me, featuring the single "It's Your Duty." Neither the album nor the single charted in the U.S. She did, however, have nominal success as a songwriter in the U.K.; she penned Girls Aloud's "No Good Advice," which was a No. 2 single in that country.
Keyboardist Rasted, meanwhile, took on interesting if not commercially successful musical projects himself. He started a band called Lazyboy, which, according to last.fm, "uses spoken word trivia, self-help advice, voices of people on the street and criticism of modern society set to hip hop-esque beats in a style dubbed 'Rhythm'n'Speak' by the creators." 
Rasted narrowly avoided another lawsuit when La-Z-Boy wasn't thrilled that he'd hijacked the sofa brand's name. His band was henceforth called Lazy B. Their first album, released in 2004, had minor success with its single "Underwear Goes Inside the Pants," which charted at No. 5 in Australia.
After Lazy B, Rasted moved on to another project called Hej Matematik ("Hi Mathematics"), which consists of him and his nephew. The band is currently on tour; you can catch them at Smukfest in Copenhagen if you're so inclined.
But male vocalist Dif def takes the cake when it comes to side-projects. According to his LinkedIn page, he is the CEO and founder of a "personal snack and salsa brand company" called Diffood. His Twitter corroborates that; the cover photo is a snap of tortilla chips and dip. He also makes bracelets after he was inspired to make jewelry on a trip to the Himalayas. Last but not least, he's a life coach. (Also: Some genius made a Tumblr dedicated to GIFs of Dif.)
Little is known about Claus Norreen, the fourth member of Aqua. His Wikipedia page says that he has a son and is separated from a Danish journalist. 
In 2007, though, Aqua embarked on a reunion tour, and in 2011, the band released their third album of original material, called Megalomania. The single off that album was "Playmate to Jesus," which Time magazine described as "some sort of outer space travel that does (or doesn't?) lead to Jesus and universal love." Neither the album nor the single charted in the U.S.
But the band is still at it. In January, Aqua released their latest single, "Back to the '80s," which Entertainment Weekly called an "audio/visual travesty." There's no word on what they've been up to since the release of that single, but based on their track record, Aqua isn't going anywhere anytime soon. Consider yourself haunted by the '90s.