After Louisiana Defeated a Religious Freedom Bill, Gov. Jindal Signed an Executive Order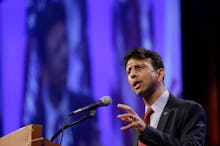 On Tuesday, Louisiana's Republican Gov. Bobby Jindal signed an executive order to implement a "religious freedom" edict similar to a set of laws that have drawn controversy around the country in recent months. 
The governor's action was especially remarkable considering a nearly identical law proposal had been killed only hours earlier by the Louisiana legislature. But despite the will of his state's legislative branch, Jindal circumvented their decision to create the "Marriage and Conscience Order" anyway.
"Louisiana, by way of executive order, steps out to the lead of that issue to say, 'We believe our first freedom is worthy of protection,'" said Republican State Rep. Mike Johnson, who sponsored the original legislation and attended Jindal's executive order signing ceremony, the Times-Picayune reported. "It's always a good time to defend religious liberty."
In anticipation of a Supreme Court ruling granting marriage equality nationwide, Louisiana's defeated bill, HB707, would have forbidden the state government from punishing businesses over their proprietor's view of same-sex marriage. Like in Indiana, LGBT activists and legal scholars argued before the legislature that the law would, in effect, provide a license to discriminate because business couldn't be punished for refusing service based on religious belief. Such a law, opponents argued, could potentially cost the state $65 million a year, according to the New Orleans Convention and Visitors Bureau, the Times-Picayune reported.
"[The order is] a sinful attempt to deflect from the failures of what should be the top legislative priority, what we're dealing with every day, which is a bogus state budget," Democratic State Sen. Karen Carter Peterson said during debate on the State Senate floor Tuesday afternoon.
While the Jindal order lacks the broad jurisdiction of the original bill, it will still enforce the intent of the failed law across all 20 executive-level state agencies, including the Department of Transportation, the Department of Health and Hospitals, the Department of Children and Family Services and the Department of Revenue.  
Jindal's order is in line with moves by anti-gay entities around the country, who are formulating pre-emptive strikes against LGBT rights as more and more states and the Supreme Court move closer to granting full marriage equality. Much local activity has related to so-called "religious freedom" bills, modeled on the federal Religious Freedom Restoration Act, that have percolated in various states. The laws are ostensibly designed to protect the religious freedom of individuals and businesses but are, in fact, often taken by eager supporters as a way to deny service to LGBT people. 
The move to reframe LGBT rights as an argument about religious freedom was also on display at a recent Value Voters Summit, an annual conference for social conservatives and elected officials. Speaking to a panel in September, conservative activist and Proposition 8 strategist Frank Schubert laid out his vision for a political rebranding of the argument over gay rights and "tap into discomfort about homosexuality [...] even among those who wouldn't otherwise want to discriminate against gays," notes the Washington Post.
According to the Post, Schubert said marriage equality opponents' plan "in a broad sense [will] be similar to the pro-life movement after Roe v. Wade — regrouping, looking at trying to change the culture ... and of course religious liberty issues will be very much in the crosshairs."
The civil rights struggle for equal marriage right has advanced faster than anyone could have imagined. Despite the unrelenting opposition of conservative and religious organizations, poll after poll has shown growing support for marriage equality and overall acceptance of gay and lesbian relationships. While there is certainly more to be done after marriage, the end of the tunnel is coming into view.