These Are the Honest Letters We Wish We Could Write to the People We Love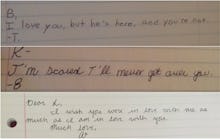 Handwritten letters are an endangered species, with American households only receiving a personal letter about once every seven weeks, according to the U.S. Postal Service. But there's something special about a formal letter — even the ones we never send.
That's where Dear My Blank comes in. The Tumblr, started in March by a 15-year-old named Emily*, collects things unsaid and letters unsent. In less than two months, Dear My Blank has received 2,632 submissions, posted 1,500 letters and garnered over 5,000 followers.
Emily got the idea from her own childhood habit of keeping a notebook full of letters she never intended to send. "I think a lot of people have a hard time verbalizing their feelings and expressing themselves to others because there's always that prospect of rejection," Emily told Mic. "The unique thing about writing letters you don't intend to send is you get to release your feelings, while not having to worry about the possibility of rejection."
So what would we really be getting off our chests in letter form if only we weren't afraid?
We would admit how we much we care about each other.
We would tackle the tough topics, no matter how awkward. 
We would request forgiveness, even if we feel we don't deserve it. 
Dear My Blank has an open submission policy, but Emily quickly realized most of the letters are addressed to secret crushes or old loves lost. "They're often about unrequited love, which, I believe, is why there are so many — there's often words left unsaid in unrequited love," Emily said.
Writing those thoughts down can be tremendously beneficial. A recent study published in Social Psychology and Personality Science found that talking out or even expressively writing about a breakup could be the first step to gaining a sense of independence after one. As study author Grace Larson said, "A person could complete weekly check-ins related to his or her emotions and reactions to the breakup and record them in a journal ... as though he or she were talking to a stranger about it."
Tumblr might provide that very same catharsis to those who submit, as well as the thousands who read them online. "I've received a lot of really amazing feedback from readers, saying the letter writing was a very good way to release their feelings," Emily said. 
"You're never completely alone in what you're going through. Because someone else, even if they're only a complete stranger, has gone through it too. They survived, and so will you."
* Last name withheld to protect anonymity in the Tumblr community.
h/t BuzzFeed