'The Bachelorette' Has a Sex Problem — And This Season's Star May Force Them to Face It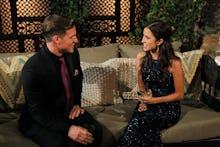 The Bachelorette usually doesn't have to deal with sex until the Fantasy Suite.
But this season, the ABC dating show must contend with its golden bachelorette's sexuality far earlier than usual. The preview for the upcoming season, aired at the end of Tuesday night's premiere, reveals that Bachelorette Kaitlyn ends up having sex with one of the male contestants in her hotel room. 
The men's judgmental reaction to Kaitlyn's actions, as well as the show producers' sensational treatment of the footage, are about as terrible as we've come to expect. But amid the tears and the dramatic music, one line from Kaitlyn stands out:
"I don't think I'm a bad person, and I'm not ashamed of myself."
Kaitlyn reiterated her stance afterward, on Entertainment Tonight. "I'm not ashamed of it — I just regret the timing. But I'm also not afraid to talk about it," she told the show. "I don't really have a problem talking about that kind of thing. I think when you're looking for a lifetime partnership, intimacy is obviously a part of that. I think maybe I'm just the first Bachelor or Bachelorette to talk about that on TV."
This season of The Bachelorette might be off to a depressingly sexist start. But amid the slut-shaming and double standards, Kaitlyn might actually emerge as the confident, self-assured, sex-positive woman the show needs.
Sex itself as "mistaken" behavior: Kaitlyn clearly feels bad about what happened. "I do have other relationships, and one of those relationships went too far, too fast," she says in a voiceover. "I made a huge mistake."
Crying to the camera, she adds, "I just feel bad."
But as far as the preview appears to show (obviously, producers aren't afraid of manipulative editing), she's most upset over hurting the other men with whom she hasn't gotten as close. The show aims to give the bachelor or bachelorette an even amount of time with each contestant; stealing extra time, as we've seen nearly every season, is always the show's biggest source of drama. 
Kaitlyn feels guilty for putting one relationship so far ahead of the rest. But the men take the issue further and shame her for her choice to be physical. One particularly savory morsel: "I don't question his intentions, I question your intentions. I think you're here to make out with a bunch of dudes on TV."
Slut-shaming in primetime: We've been here before. On season 18(!) of The Bachelor in 2014, contestant Clare had a consensual romp in the ocean with bachelor Juan Pablo, after which he proceeded to chastise her on camera for the behavior, shaming her for what he framed as her inappropriate decision. 
On the flip side, when sex came into the picture on Andi Dorfman's season of The Bachelorette, it was also treated in a bizarrely hush-hush manner. When finalist Nick brought up the fact that he and Andi had sex in the Fantasy Suite — something millions of viewers could have assumed anyway — the conversation was viewed as inappropriate and crossing a line. Nick is back this season to woo Kaitlyn, and his previous sexual encounter barely got a mention in this teaser. 
But when Kaitlyn is forced to defend her sexual interaction? She sticks to her guns: "I don't care what people say or think. This is a marriage, and part of that is intimacy". 
Sex is a real part of courtship for many people, particularly those considering marriage. As Slate's Willa Paskin wrote about The Bachelor last year, "Having one off-camera sexual encounter with a person who may soon give you a grapefruit-size engagement ring seems like a good idea." But the franchise still hasn't quite figured out how to deal with the role of sex in a relationship, not to mention its female stars' sexuality. 
"The show's selectively Victorian sensibility," Paskin wrote, implies that "the women are supposed to be relatively innocent and chaste, up until the moment the man calls on them to stop being so." Sex is always in the air, but it shouldn't happen except in certain prescribed moments of the "journey."
Kaitlyn is clearly blowing that sensibility to shreds, and that's a good thing; we don't live in Victorian times anymore. The question is whether a strong, unapologetic woman can convince America that sex can be an important, acceptable element of the dating process — and not be shamed for it.
UPDATE - May 22, 2015, 8:31 am: This article has been updated to include a new quote from given by Kaitlyn in an interview after publication with Entertainment Tonight