31 Stunning Photos Taken by Drones Show Us Our World Like We've Never Seen It Before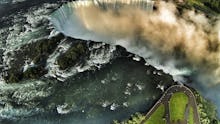 When it comes to photography, no machine can compare to the impeccable eye of the artist. But for some pictures, drones — yes, the same automated flying gadgets known primarily for their use in warfare — come out on top. Literally.
Drones are able to go where few humans can. They zoom over cities, landmarks and unfriendly terrain, giving us an unrivaled look at some of the most incredible places in the world. On Dronestagr.am, an image- and video-based social platform for drone enthusiasts, the best of the best come out to play. "Share your best aerial pictures and let's build a world map of our Earth with a bird's-eye view," the site challenges. 
What initially began as a Web platform has since expanded to include an Instagram account, Facebook page, Twitter profile and an app. Last year, Dronestagr.am even partnered with National Geographic to hold a photo contest.
What the shots lack in the sparkling resolution of traditional digital photography they make up for in wild perspectives. Below, we've put together some of the best.    
1. Annecy, France
2. Alhambra, Spain
3. The Leaning Tower of Pisa
4. Atrium of an apartment building, Singapore
5. The Eiffel Tower
6. Coco Palm Bodu Hithi, Maldives
7. Eagle flying over Bali Barat National Park, Indonesia
This photo was the winner of the Dronestagr.am/National Geographic photo contest.
8. Heroes' Monument, Caraiman Mountains, Romania
9. Weeping Rock, Zion, Utah
10. Niagara Falls
11. Big Sur, California
12. Sydney Harbor Bridge, Australia
13. Lake Annecy, France
14. Loyalty Islands, New Caledonia
15. Abu Dhabi, United Arab Emirates
16. Lisya Gora, Russia
17. Florida Keys, Florida
18. Aigues-Mortes, France
19. Herrsching, Germany
20. Strasbourg, France
21. Balneário Camboriú, Brazil
22. Le Dézaley, Switzerland
23. Guaratuba, Brazil
24. Teahupo'o, Tahiti
25. Iquitos, Peru
26. Marseille, France
27. Venice, Italy
28. Voorhout, the Netherlands
29. Chamonix, France
30. Auckland, New Zealand
31. Prague
Dronestagr.am even has you covered on video: Tour New York City, peek over Niagara Falls, surf in Hawaii, get up close with a volcano, ride with whales or relax on a beach in the Maldives.