Watch the Haunting, Heartbreaking Trailer for the Amy Winehouse Documentary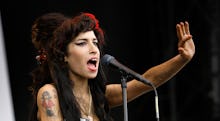 For a life as tragically short as Amy Winehouse's, it looks like the documentary about her is still going to be quite extraordinary.
The first full-length trailer for Amy, the documentary about the late British singer, dropped Wednesday morning. It's a stunning preview full of archival footage of the star in her prime — and, of course, in her darker moments.
Aside from a short teaser released last month, this trailer represents the public's first look at the highly anticipated documentary. Amy debuted to strong reviews across the board at the Cannes Film Festival this past weekend, with critics focusing on director Asif Kapadia's admiration and awe for Winehouse the artist, while still properly exploring the thorny truths of Winehouse the person.
The Winehouse family has come out against the movie, however, calling it "misleading" and an "orchestrated spin." Notably, this isn't the first time the family has opposed something regarding their daughter post-mortem: They also took issue with Beyoncé and André 3000's cover of "Back to Black" for the Great Gatsby soundtrack.
It's easy to see why one would be defensive about Winehouse's legacy. She was an incredible talent with a difficult life. That's why she deserves a documentary like Amy, though. An artist with music as gritty and vulnerable as hers should be remembered warts and all, not as a saint. By the looks of this, we'll be seeing a true portrait of an extraordinary woman. Winehouse died July 23, 2011, when she was 27.
Amy is due for release in theaters July 3. Watch the full trailer below.