Australian Police Posted a Hilarious Mock Warrant About Nickelback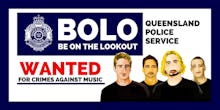 Australia's Queensland Police Service joined the Internet's Nickelback hate train Tuesday night, putting out a "wanted" poster for the squeaky clean nu-metal band on Twitter. They warned Queensland's residents to be on the look out for "musical crimes."
The police force put up a similar poster on their Facebook as well: "Avoid the area. It may be hazardous to your hearing and street cred."
The most hated band in music: The ad is the latest in a long line of anti-Nickelback gags that have clogged the Internet since lead singer Chad Kroeger's goatee first tickled a YouTube playbar. In 2010, Nickelback lost a popularity contest to a pickle, when the number likes on a Facebook page entitled "Can this pickle get more fans than Nickleback [sic]?" surpassed Nickelback's own Facebook fanpage.
In 2012, a protester involved in the Chicago Teachers Union strike vexed Mayor Rahm Emanuel with a sign that read "Rahm Emanuel Likes Nickelback." His spokeswoman denied the allegations, when asked by RedEye.
Then in October 2014, a petition to ban Nickelback from returning to the U.K. went viral by offering a truly utopian vision: "Just imagine, thousands — perhaps tens of thousands of music lovers — all not witnessing an exclusive concert by Nickelback in London. It will be glorious. Legendary. Dare we say, game changing?"
And then of course there's been the endless hate think pieces, rocks thrown at the band at shows and hate memification. When Mic conducted a survey of 25,734 Americans using Google Consumer Surveys, the Nickelback hate (alongside the Justin Bieber hate) was proven to be widespread:
Taking the beating like champs: To their credit, Nickelback has remained surprisingly good humor about it all. In 2011, the band appeared in a Funny or Die video laughing with the world at their own lameness. And in 2012, they responded to the accusation by Black Keys drummer Patrick Carney that "Rock 'n' roll is dying because people became OK with Nickelback being the biggest band in the world," by thanking him for calling them "the biggest band in the world."
They might be, though: According to the Brisbane Times, the band's promotional materials state they've earned upward of $50 million on worldwide album sales. And Celebrity Networth places Kroeger's worth at a staggering $60 million. Judging by these numbers, if the Queensland Police Service actually books them for committing musical crimes during the Australian leg of their No Fixed Address tour, Kroeger and Co. will definitely be able to make bail.