British Politician Has a Harsh Message for the Police — and America Needs to Pay Attention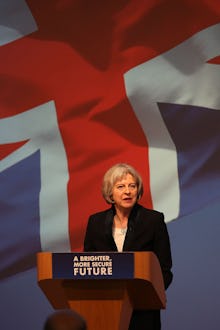 In her first speech since being reappointed Home Secretary of the United Kingdom, Theresa May had some brusque words for her nation's police.
Her message — that freaking people out about the hellscape Britain would supposedly become if law enforcement spending got cut has to stop — is one that America needs to hear, too. Badly.
The Guardian reports that May's proposed cuts are the latest aimed at curbing law enforcement in the U.K. in the past 15 years. Put simply, the upcoming reductions are meant to "reduce demand on policing at a time when crime is falling" — i.e., spending that money only where it's necessary and effective.
This exceedingly logical approach is in stark contrast to prevailing attitudes in the U.S., where police funding has mushroomed far out of proportion to actual crime rates. In fact, federal funding for American police grew 729% between 1982 and 2007, according to the think tank Justice Policy Institute, with overall funding up 485%.
Here's what May had to say in her speech to the U.K.'s Police Federation on Tuesday:
The spin: The "scaremongering" she refers to is the Police Federation's recent claim that funding cuts would "force [police] to adopt 'paramilitary styles of policing'" to compensate, according to the Guardian.
If that sounds familiar, it's because similar claims were made last year by Patrick Lynch, president of the New York City Patrolmen's Benevolent Association. According to Gothamist, shortly after Officers Rafael Ramos and Wenjian Liu were killed by a gunman in Brooklyn on December 20, Lynch publicly blamed Mayor Bill de Blasio's policies, lack of support and permissive attitude toward the anti-police violence protesters demonstrating across the city for their deaths.
"There's blood on many hands," Lynch said at a press conference. "That blood on the hands starts at City Hall and in the office of the mayor."
In a since-denied memo allegedly circulated by the PBA, the organization also claimed de Blasio's policies had turned the NYPD into "a 'wartime' police department" for the "first time in a number of years." Sounds scary, doesn't it?
The reality: But in real life, American policing is in far less harried straits than these people would have you believe — especially relative to how much we invest in it. It's a high-risk job, no doubt, with an average of 64 officers killed in the line of duty each year, according to the Federal Bureau of Investigation. (2014 was below average in that respect, with 51 killed, but higher than 2013, which saw a 35-year low of 27 deaths.) Yet neither that figure nor city crime rates seem to be affected in any consistent way by increased police funding.
As Mic's Chris Walker points out, there's almost no correlation between how much a city spends on police and how much safer that city then becomes. For example, in 2010, St. Louis, Missouri, and Detroit, Michigan, spent $651 and $487 per resident on policing, respectively — among the highest budgets in the country — but their violent and property crime rates were still among the top four nationwide.
The more specific data charting this correlation is equally inconsistent: Neither violent nor property crimes seem to go down as police spending goes up.
The takeaway: So why do we dedicate increasing amounts of federal, state and local funding on policing when it's actually not making us safer? 
For a long time, it was politically prudent to do so — "tough on crime" was a platform that catapulted many judges and politicians into office, including several of our presidents. But times seem to be changing. The perceived frontrunner for the Democratic presidential nomination, for instance, has openly declared her commitment to "[ending] the era of mass incarceration." Meanwhile, after several protests responding to the "undeniable pattern" of anti-black police violence over the past year, more and more people are asking whether the police actually make us safer at all — and hence, whether we even need them.
The United Kingdom's leaders seem to have the right idea on how to address this, including less reliance on arrest "targets," or quotas, and methods of dealing with mentally ill people that don't rely on incarceration, to name a few. The United States would do well to take note of this. Because no matter how much money we throw at a problem, we can't solve an issue without a profoundly overhauled strategy to go with it.