Matthew McConaughey Has Some Alright Advice for Graduates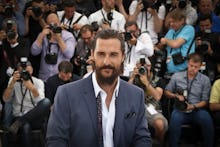 "Short and sweet or long and salty? A sugar donut or some oatmeal?" While you might imagine these are the words of a man figuring out what to eat for breakfast, they were in fact the words Matthew McConaughey opened his commencement speech with this past Friday.
McConaughey, the Oscar-winning actor known for films such as Dallas Buyers Club, Dazed and Confused and A Time to Kill, spoke to the graduates of the University of Houston, a school in his home state of Texas. (He himself is from Uvalde, in the southern part of the state, and currently lives in Austin.) The speech, in traditional McConaughey style, was long, wandering and at times quite strange. 
But the master of the "alright, alright, alright" also managed to dispense a few kernels of wisdom hidden among the pile of stray thoughts. It just takes a bit of digging to find them.
"The sooner we become less impressed — with our life, our accomplishments, our career, the prospect in front of us — as soon as we become less impressed and more involved with these things, the sooner we get a whole lot better at doing them," he said, before launching into 13 lessons for his audience. These ranged from going "from can to want" and a directive to "dissect your success" to the more abstract "a roof is a man-made thing."
Perhaps his best advice came in the 12th lesson, "Give your obstacles credit." He spoke of the value of fear, saying he attempts to fear something at least daily. "Be brave, have courage," he said in summary. "When you do, you get stronger, more aware and more respectful — of yourself, and that which you fear."
There were other strange bits, like a rant against the word "unbelievable." It was an unconventional commencement speech, but what did anyone expect? McConaughey isn't a historian or author. He's an odd duck actor with a specific, easygoing sensibility. At a time in a young person's life when they're most stressed out about the future, his prescription for a double dose of chill pill is exactly the right medicine.
"While we're here, let's make it a place where we break a sweat, where we believe, where we enjoy the process of succeeding in the places and ways we are fashioned to," he said in closing. "Thank you, good luck and just keep livin'."
Read the full text of the speech over at Time.