Another Trans Woman of Color Was Murdered This Week. Here's Why It Matters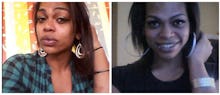 Hours after a TV special dedicated to Bruce Jenner's gender transition aired Sunday night, the life of yet another trans woman of color was suddenly taken away. 
Early Monday, 21-year-old London Chanel was killed at an abandoned home in North Philadelphia. As the local NBC affiliate reports, a witness said an argument between Chanel and a man escalated into a physical fight, during which Chanel was fatally stabbed multiple times inside of a third-floor bedroom. The alleged attacker and the witness then carried her downstairs, placed her on quilts outside the home and performed CPR before flagging down a nearby officer. But it was already too late. Chanel was pronounced dead at a hospital soon after. 
So far, it's not clear what caused the argument, or if the crime was motivated by hate or ignorance against trans people. But Chanel's death is part of a larger problem, where trans people, especially women of color, continue to get killed or commit suicide at an alarming rate. Furthermore, few news reports have detailed Chanel's story to date. 
What will it take for people to fully recognize and affirm the value of trans lives?
A broader trend of trans deaths. In the first two months of 2015, about one trans woman was murdered each week, resulting in seven deaths. Chanel's death makes her the eighth known trans woman to have been murdered so far this year in the United States. The vast majority of those murders have been women of color, who have been disproportionately killed almost every year since news reports, blogs and other organizations began closely tracking. 
The figure may be higher, as some trans and gender-nonconforming victims get misgendered in news and police reports. The known deaths and suicides thus far are only the ones in which people knew the deceased identified as trans. As BuzzFeed noted, Chanel was misgendered in the initial NBC Philadelphia report, which sparked an outcry from community members who knew her. 
In Chanel's case, the alleged attacker has been charged with her death. But other murders of trans people — from 2015 and many other years prior — remain unsolved. 
"She had a heart of gold," Chanel's friend Kione Seymore told NBC10.com Monday. "We are trans sisters. We shared a bond no one could understand."
Suicides also continue taking a toll. According to a 2011 report from the National Center for Transgender Equality and the National LGBTQ Task Force, the combination of structural racism and transphobia severely hampered the lives of trans people of color, who fare worse than their white counterparts across the board. 
The same report noted that 41% of trans respondents reported attempting suicide, compared to 1.6% of the general population. Rates were particularly high for trans people who reported job loss due to transphobic bias, bullying or harassment at school, or surviving physical or sexual assault. The December 2014 suicide of 17-year-old Leelah Alcorn made national headlines and caused an uproar on social media. Unfortunately, the trend of both murders and suicides show no signs of slowing down.
Earlier this month, 15-year-old Cameron Langrell from Caledonia, Wisconsin, reportedly took her own life days after coming out on Facebook as a young trans woman. Family members told the Journal Times they felt it was because of bullying. In late April, after enduring transphobic trolling online, 23-year-old game developer Rachel Bryk committed suicide in New York City, after prescheduling a Tumblr note to be posthumously posted with the news of her death. In March, 18-year-old Blake Brockington, a black teen who made national headlines in 2014 as North Carolina's first trans homecoming king, also died of an apparent suicide.
Why this matters. The staggering numbers of trans women of color being killed and other trans people committing suicide make it clear there's a larger problem that can no longer be ignored. Increased visibility of transgender lives in mainstream media, as more public figures and others have their stories told in authentic ways, is refreshing and necessary. Still, plenty of work remains before deadly levels of social and institutional bias against trans people subside. And it starts by paying attention to and valuing trans lives — not only in death, but also in life.