8 Badass Women With the Perfect Response for Why They Made the First Move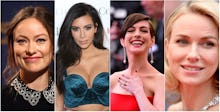 Dating has gotten more advanced than ever, with matching algorithms, geo-location, endless swiping and even tracking missed connections. But there's still one element of dating that's just a bit, well, dated: Women aren't asking men out. 
According to a 2011 survey from Match.com, the majority of women who date men still expect them to ask them out, and whether women "can" or "should" is still endlessly debated. But that same survey found that 65% of men have been asked out by a woman, and 91% of men are totally cool with it, according to Cosmopolitan. 
Not only will men be receptive, but asking first also establishes the relationship on a good, even footing."When you give yourself the option of making the first move, you're tuning into what you want, not just on what he wants. After all, it's not just about meeting people for the sake of meeting them," the Huffington Post's Renee Cutaia Olson writes. 
Just ask these eight kickass women who kicked gendered notions to the curb and made the first move — and never regretted it.
1. Kim Kardashian: "Why not? Like, what am I waiting for?"
In a recent interview with Access Hollywood, Kardashian explained that after her very public divorce in 2012, she was ready to make the first move on an old friend. After a long mutual attraction, she called up Kanye West on the phone. "Why not? Like, what am I waiting for?" Kardashian had thought to herself at the prospect of making the first move. He promptly asked her to his Paris fashion show.
2. Amanda Seyfried: "[He] made me laugh out loud, so I texted him."
Straight shooter Amanda Seyfried sees something she likes and goes after it. In an interview in Vogue's June 2015 issue, Seyfried explained that her now-boyfriend, Justin Long, was killing it at Instagram, and she liked what she saw. After all, women are just as capable of determining what they're into as men. The two have been dating for two years. 
3. Whitney Port: "It had to be me, you know."
The relationship between the star of The City with producer Tim Rosenman would have never happened if she hadn't been the one to take the leap, she explained in an interview with Hello! Fashion Monthly. "He wasn't going to cross that line," she told the magazine. But she knew he'd be open if only she took the leap.
4. Anne Hathaway: "I have no problem making the first move when I see a guy I like."
When Hathaway first found out her crush Adam Shulman was single, she decided to act as any self-assured woman would: She threw a party and invited him. She told Harper's Bazaar in a 2014 interview that they had an instant connection, something that's never worth ignoring — whether the man or woman notices first.
5. Naomi Watts: "It was a lot more ballsy than I would ever normally be."
If it weren't for Watts being so ballsy, she would have never met her partner Liev Schreiber if not for her pursuit of him at the Met Ball in 2005, she told Allure in 2013. Watts reportedly was wildly attracted to him and his work and couldn't let the opportunity to hit on him pass her by. 
6. Olivia Wilde: "This is [my] number. Use it."
Wilde told Allure in 2013 that her now-husband Jason Sudeikis wasn't getting the hint when they first met. She had to take the matter into her own hands, with a little help from a friend. Hey, whatever you need to work up the courage. Baby steps, people. 
7. Carrie Underwood: "He can't leave me hanging, right?"
The country music star has been a go-getter since her American Idol days, but she told Glamour in 2012 that she pursued her now-husband. "She actually asked her husband out on their first date," reported Glamour's Tracey Lomrantz Lester. "She invited herself along and they actually had their first kiss when the ball dropped at midnight." 
8. Gillian Anderson: "I stopped and thought, 'Fuck this! What am I doing?'"
One time at the movies, Anderson made eye contact with a man as she entered the theater. She noticed they laughed at the same time during the film, and they briefly chatted and parted ways before Anderson realized she could take the situation in her hands. She asked him out. These days, Anderson told the Telegraph in March, "I'm leaning towards the idea that it's time for somebody to be brave enough to ask me out." 
But worst comes to worst, she doesn't need to wait.