Here's What Nearly Everyone Gets Wrong About Miley Cyrus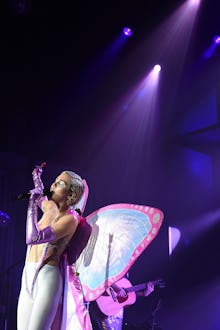 In a world where musicians have to manage their images as if they were politicians, Miley Cyrus pulls no punches. That takes guts. But it also leads to a news cycle that washes over her talent in favor of sensationalized and scandalized headlines.
As a result, Cyrus has been consistently underrated ever since she became the pop star she is today. People are so distracted by her Disney beginnings and her subversive image that they entirely miss the undeniable truth of Cyrus: She's a very impressive musician and talented performer. She has all the right tools to take risks that pay off. So let's stop criticizing her image and consider all the surprising ways Cyrus is a talented musician.
The Disney Bias: In 2006, the hit Disney TV series Hannah Montana introduced Cyrus as a squeaky-clean tween leading a double life as a pop star. By 2008, Cyrus' likeness was a best-selling doll that threatened to dethrone Barbie herself, and Hannah Montana was a billion-dollar corporation. But by the time the show aired its final season in 2011, Cyrus was 18 and already moving on from her Disney days. And some viewers — mostly parents — believed that Cyrus owed their children something.
The New York Post chalked it up to what they called "celebrity confusion," where misguided parents felt "duped" by Cyrus for betraying her image as a Disney queen. As Cyrus began to speak her mind and make music truer to her own taste, people were unable to let her origins go or believe that a child star could have a career of her own. Beginning with the infamous VMAs twerking incident in 2013, Cyrus came under constant fire from conservative groups for her outlandish antics. A Daily Mirror article with the headline, "Miley Cyrus' Bangerz tour should be axed because of sex based lewd acts on stage say outraged parents," read that Cyrus' tour "has been hit with a flood of complaints over her lewd behavior with outraged parents calling for it to be canceled." Cyrus replied with a simple, "You can't say I didn't warn you."
What they're all missing: In all the talk of Cyrus's public profile, her raw talent is constantly overlooked. Despite what the critics say, Cyrus has unparalleled pop music sensibilities. Her album, Bangerz, was well-received by critics and debuted at No. 1 on the Billboard 200. Every outlet from Billboard to Rolling Stone to Entertainment Weekly to the Los Angeles Times lauded the album as an impressive piece of work from the young musician. Cyrus took real risks and came out the other end with a great album to show for it.
This is a product of her Nashville songwriter sensibility. Cyrus has unimpeachable taste — something evident both in her phenomenal covers and her smart collaborations. She's worked with a wide variety of artists, including Pharrell for Bangerz (she also sang uncredited on his "Come Get It Bae"); Snoop Dogg back in his Lion days for the fantastic "Ashtrays and Heartbreaks"; Will.i.am and Wiz Khalifa on "Feelin' Myself"; the Flaming Lips and Moby on the brilliant "Blonde SuperFreak Steals the Magic Brain"; as well as Future, French Montana and Juicy J. And her recent series of Backyard Session covers have nearly broken the Internet with their flawless execution.
Her taste is a huge asset, but her voice is even more so. It's a diamond in the rough — a rare raw talent. The Daily Beast wrote a post called, "Is Miley Cyrus a Good Singer? Experts Weigh In," and the results surprised them: "According to experts, Miley Cyrus, it turns out, is actually a pretty good singer." 
"She's obviously got great technique, if you ask me," said Los Angeles-based celebrity vocal coach Micah Plissner. "She wouldn't be able to do all she does for this long if she didn't." 
Roger Burnley, vocal coach and creator of the online program Singing Made Simple, added, "She has such musicality."
She knows how to use her voice, too. Miley Cyrus is closer to a complete package than most stars get. Not only does she have phenomenal musical ability, but she knows to what ends she should use it. At the end of the day, Cyrus is looking out for the right political agenda, too. Her Happy Hippie Foundation, which Cyrus founded in early May, is a nonprofit whose "mission is to rally young people to fight injustice facing homeless youth, LGBT youth and other vulnerable populations." The fundraising effort is backed by those Backyard Sessions, which bring musicians together to collaborate with Cyrus and raise awareness about the foundation in the process. So far, Joan Jett, Ariana Grande and Against Me!'s Laura Jane Grace are among the musicians who have shared the stage with Cyrus. She wrote on the foundation's website, "There is a new generation about to take over and I hope that we can create a happier and freer world to live in."
If critics took a break from bagging on Cyrus, they might realize her true talent and musicianship. After all, Miley's just being Miley.