Now Is the Time to Provide Universal Primary Education to the World's Children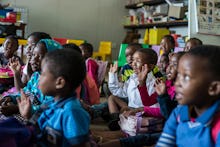 Impact
By
David Miliband and Marcio Barbosa
The "Pass the Mic" series showcases voices, perspectives and ideas that spark interesting conversations. 
Education is the foundation of lifelong prosperity, good health, nutrition, security, peace and tolerance between nations. This week, education leaders from around the world are meeting in Incheon, South Korea for the World Education Forum, where they will discuss a broad education agenda and propose goals for the next 15 years.
This year's meeting is especially important, because this is the year when the United Nations will adopt ambitious Sustainable Development Goals, a set of principles that will guide the global development agenda through 2030. The SDGs' proposed targets address all the critical areas of education and aim to provide the opportunity for lifelong learning for all. This is an enormous ask, and with big opportunities come big risks.
Since the Millennium Development Goals were adopted by the UN in 2000, there has been vital progress in the expansion of universal primary schooling. By 2012, for example, the number of primary school-aged out-of-school children had dropped by 42% overall, and by 47% for girls. From 1999 to the present, the number of primary school-aged children enrolled in school globally has increased by 48 million.
But there is another side to the story. Fifty-eight million children around the world remain out of school, and 100 million of those actually enrolled will not finish the school year. Two of the most common barriers preventing children from enrolling in and completing a primary education are poverty and conflict, with approximately 28.5 million of the children not in school living in conflict and crisis settings.
These children require special attention if they are to be included in the SDGs' new education goal of "inclusive and equitable quality education and lifelong learning opportunities" for all. Governments, NGOs, donors, teachers and, importantly, communities must come together to find solutions tailored to the specific barriers faced by out-of-school children. Policies that prevent teachers from being paid, constrain curriculum, dictate language of instruction and impose barriers on who provides education are unacceptable excuses for preventing a child from realizing his or her right to education.
Creative collaboration is required to reach the needs of the most marginalized, as seen through the work of Education Above All's Educate a Child program and the International Rescue Committee in Côte d'Ivoire, where community savings and loans programs are in place to defray the financial and opportunity costs of primary education.
In addition to innovative programmatic solutions, funding is an essential part of completing the UN's unfinished education agenda. While many donors and national governments have generously provided funding for education, overall aid to the sector has dropped by 10% since 2010. Education receives less than 2% of global humanitarian funding and less than 40% of what is requested for the sector. Funds are needed for a wide range of activities including education interventions, research and social and emotional support for disadvantaged children.
As key stakeholders gather this week in Incheon, the time is now to remember our promise to provide universal primary education to the world's children. Despite recent years' achievements, inequity in education persists, especially for those most affected by poverty and conflict, and undermines the spirit of the Development Goal process. Let's ensure that the priority of an inclusive and equitable quality basic education for all does not become a diluted promise.