Millennials May Love Cities, But Cities Hate Millennials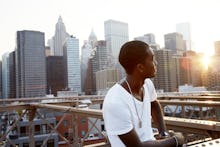 The Millennial Generation is the most diverse age cohort in the United States. Its members are the most environmentally conscious, the least interested in buying cars and the most interested in top-quality public transportation and convenient cultural amenities. Throw in the stereotype that millennials are workplace prima donnas who love a convenient Chipotle location, and it's no wonder many have decided to abandon their homogenous, inconvenient, auto-dependent suburbs of their youth for the big city. 
But cities aren't exactly rolling out the welcome wagon for their newest denizens; on the contrary, they're pushing millennial urbanites to their limits.
Cities, we love you, but you're bringing us down: According to a compilation of new research published by the Urban Land Institute, the majority of millennials are living a life far different from their Sex and the City fantasies. Monetary constraints on a generation that is working more and earning less than that which preceded it have pushed many millennials to the peripheries of urban landscapes.
According to the research, which is based on a nationwide survey of 1,270 Americans between the ages of 19 and 36, prohibitively high rents (millennials are paying a median $925 a month) mean that millennials are being relegated to ever-more remote corners of the cities they call home. Only 13% of millennials live in or near downtown areas, with 63% living in either more remote urban neighborhoods or (gulp) the suburbs. 
Those high housing prices would be even higher if it weren't for the unique willingness of millennials to share their space: Twenty-seven percent of millennial renters share housing with roommates. (In news that shouldn't shock anyone who has had to wait in line for the bathroom at 7:30 a.m., 58% of millennials with roommates would prefer to live alone).
Not going anywhere: Despite the constraints of living in far-flung neighborhoods and the inconvenience of urban living on the cheap, most millennials are optimistic about the odds of improving their housing and financial circumstances in the years ahead, and have zero desire to leave the city anytime soon. 
"Gen Yers want to live where it's easy to have fun with friends and family, whether in the suburbs or closer in," said Urban Land Institute trustee M. Leanne Lachman, according to a press release. "Their desire for an urban lifestyle suggests that the current trend of urbanizing suburbs will present lucrative opportunities for the development community for decades to come. This is a generation that places a high value on work-life balance and flexibility. They will switch housing and jobs as frequently as necessary to improve their quality of life."
That quality of life is, unfortunately, subject to the whims of the often outrageous urban real estate market. As the ultra-wealthy drop nine figures on apartments they'll never live in, millennials are showing a high degree of flexibility and creativity in their housing choices. In the past three years 45% moved at least twice, according to the research, and among 50% of millennials who rent apartments, two-thirds live in low-rise units with few amenities.
Home improvement: Many inhabitants of subpar apartments justify their ersatz accommodations by citing the lifestyle boost of living in cosmopolitan urban areas. But so far, cities have been slow to adapt to the kinds of infrastructural and technological improvements that make millennials want to settle down. 
More than 85% of millennials own smartphones, but cities have been slow to embrace municipal wireless networks; the use of public transit for commuting is more popular among millennials than any other age group in the U.S., but across the country, cities are cutting service and hiking fare prices. Don't even get started on bike lanes: Even though millennials cycle to work more than any other cohort (in keeping with their environmentalist streak), the implementation of bike lanes and safe spaces for cyclists has been met with anti-green skepticism and threats of vehicular homicide.
"This is a generation that places a high value on work-life balance and flexibility. They will switch housing and jobs as frequently as necessary to improve their quality of life."
How, then, can we make cities more accommodating of their newest inhabitants? Investing in infrastructure to aid in harsh commutes would be a welcome quality-of-life improvement for many millennials, but the difficulties of urban living for young people stem from a much more systematic problem: the lack of affordable housing. As long as cities cater to the rarified occasional occupants of ultra-luxury condos and the developers who build them, the lifeblood of cities will be shoved further and further into the hinterlands.
In true, indefatigable millennial fashion, young urbanites are facing these obstacles head on. "In general, millennials are an intriguing combination of optimism and realism," Lachman said, according to the ULI press release. "They are proving adept at making the environment in which they currently live fit how they want to live, while not losing sight of how they see themselves living in the future. The choices they make will be hugely influential in how our urban regions grow throughout the 21st century."