One of the Most Conservative States in the Country Just Voted to Ban the Death Penalty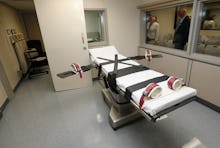 Lawmakers in Nebraska have voted to abolish the death penalty — and they did it with the help of conservative Republicans.
In a 32-15 vote on Wednesday, ultra-conservative Nebraska (virtually every position in the state is Republican controlled) became the first Republican-controlled state to ban the death penalty since North Dakota in 1973.
The Associated Press reports the "vote margin in the unicameral Legislature was more than enough to override a promised veto from Republican Gov. Pete Ricketts, a staunch supporter of capital punishment." But while the conservative Gov. Ricketts has warned that repealing the death penalty would be a "dark day" for public safety, it was actually Republicans that proved crucial during the vote.
Why it matters: According to the AP report, the traditionally liberal anti-death penalty movement in Nebraska succeeded specifically because it was "bolstered by conservatives who oppose the death penalty for religious reasons, cast it as a waste of taxpayer money and question whether government can be trusted to manage it."
"It's certainly a matter of conscience, at least in part, but it's also a matter of trying to be philosophically consistent," Sen. Laure Ebke (R-Crete) told the AP. "If government can't be trusted to manage our health care ... then why should it be trusted to carry out the irrevocable sentence of death?"
After Nebraska's death penalty ban goes into effect, just 31 states will continue still have capital punishment. However, a handful of states (particularly Texas) account for a disproportionate number of executions, and the number of such killings has dropped precipitously since peaking at 98 in 1999.
Making deals: The vote is a direct challenge to the wishes of Gov. Ricketts, who recently worked with the state's Department of Corrections to acquire all three drugs necessary to carry out Nebraska's execution protocol. While Nebraska hasn't executed an inmate since accused double-murderer Robert Williams in 1997, Ricketts has been working to bring it back. Last week, he called the state's inability to acquire the drugs a "management issue" and noted that three of the 11 inmates on Nebraska's death row were out of appeals.
While Republicans gave the death penalty ban the boost it needed to succeed in a conservative state, the movement owes much thanks to progressives like State Sen. Ernie Chambers of Omaha. Chambers is a New Alliance Party member and has struggled for decades to put momentum behind the campaign in this deeply red state.
Why you should care: A majority of Americans continue to support the death penalty for heinous crimes. However, as the Washington Post's Mark Berman reported last year, support has fallen from 78% in 1996 to 55% in 2013. Opposition grew from 18% to 37%.
Fordham University professor Deborah W. Denno told the paper that while opposition is growing, "The death penalty is so entrenched in this country. It's like pulling up a tree with huge, deep roots. That's going to take some time, and that tree's never going to want to let go."
However, six of the 18 states to have banned the death penalty have done so since 2007, and the number seems likely to grow to seven in short order with the addition of Nebraska. If more Republicans get on board in other states, that movement of conscience may yet grow further.
Right-wingers might be odd bedfellows in the fight to get rid of one of the government's harshest criminal punishments. But they're welcome allies if their support helps rid the U.S. of a cruel policy more common among authoritarian regimes than the developed democracies of the world.
Update, 6:20 p.m. on 5/27/15: The promised veto override actually happened, thus formally ending the death penalty in Nebraska.